Our Customers
Footman James provides our best policies for classic customers and professionals a like - here's just a
few we are proud to help cover:
Classic Car Club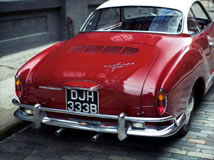 Classic Car Club has a vast fleet of sexy, classic, modern and downright quirky auto mobiles to suit your every whim and fancy. This club counts motoring journalists, film stars, rock stars, celebrity chefs, top sportsmen and a whole host of other famous people among their membership.. All of the responsibility of ownership - depreciation, maintenance, insurance, tax, repair, etc falls on their shoulders - all for a yearly subscription and one-off joining fee. They're also a lovely bunch of chaps!
Call us today for a quote
0843 357 1974
What our
customers say
I saved over £300 insuring my Mazda MX5 MK1, plus breakdown cover was included! The service was friendly & in one call I was all set!

A Bolt
London

Great Service, Fantastic Value

K Morrison
Inverness

Over the years I have been a customer, the staff have all been very helpful

Mr M.J. Clowes
Essex

Great Service, Competitive Cover, No Problems

P Jones
Dorset

All the personnel I have talked to have been most helpful and efficient

P Purnell
Cardiff
Previous
Next