Chateau Impney Hill Climb
The Chateau Impney Hill Climb is a prestigious, Midlands based lifestyle event that centres itself around motorsport and enjoying the little luxuries that life has to offer. The Hill Climb is fortunate enough to be situated in the grounds of the imposing French-style nineteenth century Chateau Impney, which means the event benefits from a relaxed, summer garden party atmosphere.
Motorsport began here back in the 1950's when the local Hagley and District Light Car Club organised an annual sprint through the estate. The event was deemed a great success and described as 'easily the most picturesque of the country's sprint and hill climb venues… and will quickly rival the best of them'. The press described the inaugural event as a 'red letter day' for Chateau Impney.
Despite the success that the event enjoyed, the decision was made in 1967 to call it a day on motorsport at Chateau Impney, much to the disappointment of both competitors and spectators alike.
In 2012, the Greyfort Group took over the running of the Chateau Impney and in 2015, the Chateau Impney Hill Climb was rejuvenated. Once again, the event was deemed a great success and has gone from strength to strength ever since.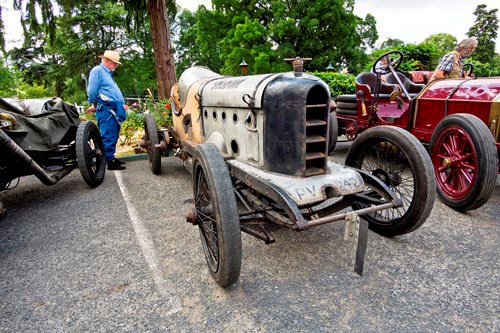 Each year there has been a resplendent selection of classic cars roaring up the technically challenging course. Visitors can also wander around the paddock and get up close to these beautiful machines, and the owners and drivers are always keen to discuss their vehicles and answer questions. The event is not just limited to classic cars, however, as the Chateau Impney Hill Climb welcomes supercars from the Supercar Drivers Club too.
The Chateau Impney Hill Climb is a lifestyle event, however, it is an event that has a soul. Chateau Impney are keen to ensure that it exceeds expectations in all areas, where visitors should expect the unexpected.