Historics at Brooklands

About Us
The independent specialist classic car auction house, Historics at Brooklands, was established in March 2010. Their aim is to provide a highly knowledgeable and professional resource for the sale of fine quality classic and collector cars and motorcycles, underpinned with a highly-experienced team who are themselves, classic owners and enthusiasts.  Significantly, all visitors to there auctions will be aware that they aim to represent the breadth of the classic community, with a balanced consignment of interesting, fine classic vehicles of many eras and values to suit all pockets.
An Exceptional Auction Experience
With their permanent home at the hugely evocative Brooklands Museum - the birthplace of motorsport and aviation - and 33 major auctions under our belt as of March 2018 -  Historics is well-established in stature and reputation. And with flourishing sales results - many consignments returning a far higher sales price than estimated - sales full to bursting, and an average sale rate of over 80%, Historics delivers an exceptional auction experience for buyers and sellers alike.  
Customer Service Award Winners
When it comes to customer service, Historics at Brooklands are more than a little proud to have been acknowledged as going that extra mile in customer service by the motorists' champion, Honest John, in their annual Highly Approved Trader (HAT) awards. That's a clean sweep for Historics since the Awards were established in 2012. We are also delighted to receive many praising acknowledgements from delighted clients.
Beneficial Commission Rates and Prompt Payment
Historics at Brooklands pride themselves on offering highly competitive commission rates, for both sellers and buyers, and guarantee payback within 14 days.
A Bigger Opportunity To Buy and Sell
They have repeatedly been asked to increase the number of Historics auctions, and so from 2017 we did just that, giving everyone a bigger opportunity to take advantage of the widest range of classic car consignments coming under the hammer in the UK. In all cases, auctions are on Saturdays, with previews of all consignments on the Thursday and Friday.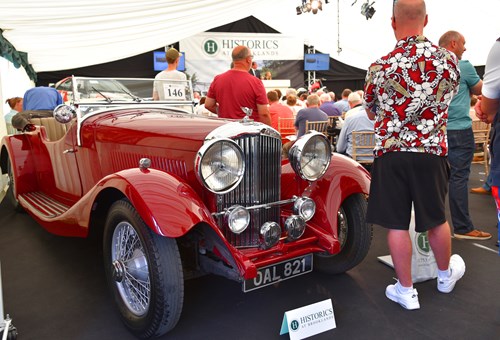 A Wide Range of Complementary Services, Including Finance 
Historics at Brooklands offer a range of complementary, value-added services to their clients, including; free valuations, a special and valued relationship with Footman-James plus transportation and storage facilities for our buyers with E.M.Rogers.  In 2017, they again took the lead in the classic car auction sector when Historics became the first classic car auctioneer to be authorised and regulated by the FSA to offer finance to our clients, through our unique partnership with the established specialist, Classic & Sports Finance. 
And Finally…Good Old-Fashioned Courtesy
So, when it's the time for you to buy or sell your first or next classic, and receive honest, impartial and professional guidance, from one enthusiast to another, with attractive commission rates wrapped up in good old-fashioned courtesy and friendship, you'll find that no hat fits better than at Historics, where they can assure you that you'll benefit from the finest auction experience.
For full information including bidding, upcoming auction consignments and past results, visit the Historics website below or for specific enquiries, e-mail auctions@historics.co.uk or call 01753 639170