The Collector: Mark's astonishing celebration of Sant'Agata
"It was an old school friend of mine who wanted to buy a silly car, and convinced me to go 50:50," begins Mark, recalling a particularly memorable week in 1987. "What we really wanted was a Ferrari 308, but we couldn't afford one. We settled on a little Lamborghini called a Jalpa, and I suppose the rest is history…"
Mark's Jalpa has a lot to answer for. The early-eighties' entry level supercar proved to be just that, acting as somewhat of a gateway drug. It was the car that would spark a passionate Italian love affair spanning over three decades – one which still shows no signs of slowing down.
Five Lamborghinis now reside in Mark's garage, with the Jalpa now joined by pristine examples of all four V12 'scissor-door' cars. The collection features some of the all-time great Italian supercars, totalling over 2,500bhp – but there isn't a prancing horse in sight.
"There's something about Lamborghini – an attitude, a kind of irreverence that's becoming harder to find these days. The cars have a sense of spirit which is totally unique; a sense of anarchy which is captured in their cars. I love that the brand was born from a feud between founder Ferrucio Lamborghini and Enzo Ferrari, with the first model launched to spite him. Even though they're now owned by the VW Group, that spirit is still alive."
It's clear that Mark is no stranger to taking a risk himself, as he recalls that very first week of Lamborghini ownership. Coinciding with the stock market crash, the realities of running a raging bull became apparent early on.
"The friend who owned the other half of the Jalpa had lost that week, so he couldn't pay me the money. I literally didn't have enough money to eat - I had a jar of coppers that I emptied out and used to buy food."
The early experiences weren't enough to dampen Mark's desire, even after a garage break-in during the early nineties which almost cost him dearly. "The only thing stolen was the poster of a white Countach, in a large chrome picture frame," smiles Mark. "But I managed to replace the poster with the real thing."
In 1993, the Jalpa was joined by a white 1984 Countach LP500S, arguably one of the most iconic supercars of all time, and one which remains a firm favourite of the fleet.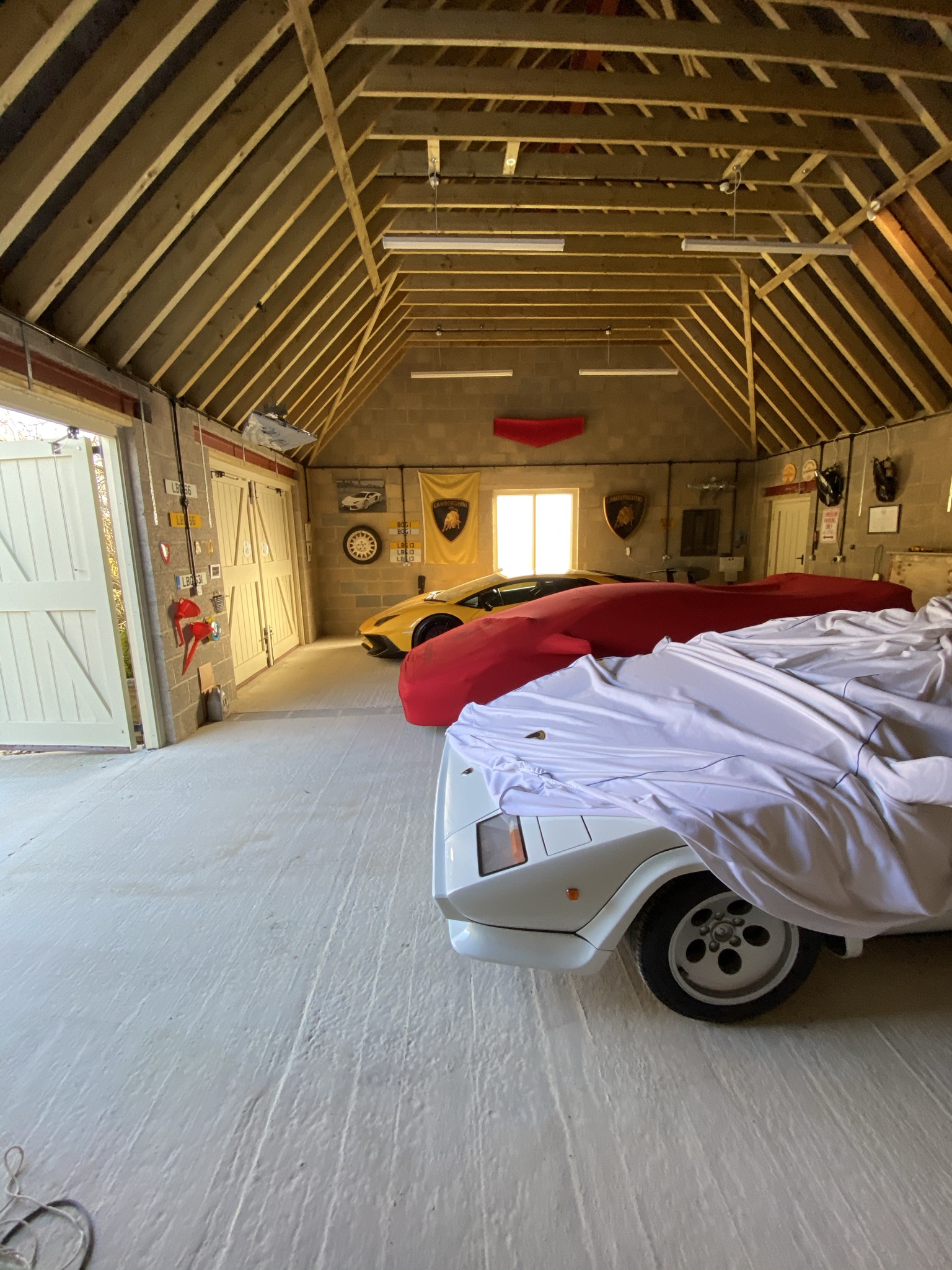 "If I could keep one, it would be the Countach," says Mark. "It's just alive. It's really difficult to describe it. I took it to Hampton Court for Concours D'Elegance this year, and it still holds its own even next to cars worth ten times as much. It's just a really special thing."
It wasn't until the late nineties that the collection would grow once more. A 1992 Diablo – Italian for devil, in case you didn't know - was the next arrival, and the early rear-drive example still lives up to its namesake.
"Those early Diablos are very powerful, but they've got no ABS, no traction control and no airbags. It's a proper, old-school car, and still the only car I've spun on a UK road, while leaving a roundabout in Bracknell. They really are the last of the Mohicans."
A lucky escape in Berkshire wasn't the only one Mark has had with the Diablo. He was approached by the Top Gear production team, who asked to loan the car for a feature of the most iconic 1990s supercars, alongside a Ferrari F40 and Jaguar XJ220. Despite pressure from his children, Mark decided not to go ahead, and recommended another identical Diablo for the filming. That would turn out to be a shrewd move, as it was crashed by presenter Paddy McGuinness during filming.
The Murcielago, which arrived in 2012, is a very different animal. As the first brand new model released by Lamborghini after being bought by Audi AG, Mark says it looks after you in a very different way, benefitting from four-wheel-drive, ABS, traction control, plus an active rear wing and air intakes.
With the Countach, Diablo and Murcielago side-by-side, the evolution of the scissor door cars is visible. The three iconic designs encompass their birth era, representing their decade of launch perfectly, with all three using an evolution of Lamborghini's legendary sixty-degree V12 engine design.
The final member of Mark's V12 quartet arrived last year, an Aventador SV – by far the most extreme of the group. With over 750bhp delivered at a heady peak of 8400rpm, Mark describes it as 'absolutely brutal', and like a spaceship when compared with the earlier V12s. In a dazzling shade of Giallo Orion, the newest vehicle in the collection proves that Lamborghini's mojo has survived the decades intact.
Owning and driving a collection of five supercars isn't for the faint hearted, and Mark has countless stories from over years. A particularly memorable moment was in 1993, on a jaunt to Sant'Agata Bolognese for the manufacturer's 30th birthday.
"We were parked up for lunch at a small restaurant, and a group of Italian Police had stopped for a look around the cars. Remember, the early nineties were a rather different time. Personally, I don't drink, but a few members of the group began exchanging conversation, and then wine, with the officers – who later decided to close the roads for us and have some fun."
"I was at the front of a group of five and came over a humpback bridge in the Jalpa to find another Italian Police car blocking the road, with the officers waving and pointing to a ninety-degree corner. Old Lamborghinis don't stop particularly well at the best of times, and we only just made it…"
There are few regrets from Mark's tenure as a Lamborghini owner – though he says refusing the offer of a Miura for £40k was a mistake, as examples now fetch around £1m. He also almost agreed to an LM002, Lamborghini's Countach-powered luxury off-roader, a model he says is truest to the spirit of Italian lunacy. Their fragility, and the smell of petrol in the cabin during the test drive, was enough to curb his enthusiasm.
The collection still gets used regularly, with Mark attending shows and tours with the Lamborghini club.
"You discover there's this endless hierarchy," smiles Mark. "There was this wonderful moment at Salon Privé. I was stood next to the Countach with my son, talking to a bloke who asked me how many Lamborghinis I had. I answered, and my son asked the man the same question. 'Twenty-seven', he replied. You have to remember - there's always someone in the playground bigger than you."