Classic Motor Hub Summer BBQ 2019
Date: Saturday 20th July 2019
Time: 17:00 – 22:00
Location: Classic Motor Hub, Old Walls, Ablington, Bibury GL7 5NX
Footman James' partner, The Classic Motor Hub, is excited to announce their Summer BBQ; a feast for those who love meat, music and motoring!
WHAT TO EXPECT
The Classic Motor Hub invites you to their Summer BBQ taking place this July following their hugely successful Coffee & Classics events, sponsored by Footman James. So, bring along your friends, your family and your classic and enjoy a chilled night surrounded by music, food and classic cars and bikes.
THE SHOWROOM
As with all The Classic Motor Hub's events, The Hub allows visitors access to their classic car showroom. The Hub carefully select their most interesting and most exceptional vehicles to display, specialising in vintage, classic and high-performance sports cars. However, modern vehicles and emerging classic cars will also be on display.
LIVE MUSIC
Chill out with music by blues band Mojo Hand, energise yourself with the acoustic sounds of New Rules, or get your rock and roll shoes on dancing way to the gritty sound of Our Story.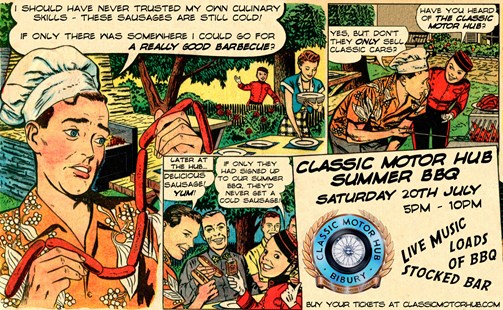 FOOD & DRINK
There's more than one option for food and refreshments at The Hub as you have the option to taste the succulent delights from The Hub's BBQ, relax at The Hub's coffee house and shop, or quench your thirst at The Hub's Classic Motor Hub Bar.
The Hub's barbecued food includes:
Local British beef burgers (served with fresh white rolls and cheese)
Award-winning sausage (with caramelised onion)
Windrush Valley Beef Steaks (seasoned with salt and pepper)
Marinated chicken breast
Locally reared Jamaican jerk pork filler (marinated in spicy Jamaican jerk wet marinade)
The Hub also offers vegetarian options including:
Halloumi (marinated and cooked on a meat-free grill)
Spicy veggie burgers and sausages
To complement your meal there's a choice of:
A variety of salads
Coleslaw
Pasta side dishes
ADMISSION
Tickets are £20 for adults and £12 for children (under 12 years). Tickets include admission, barbecued food of your choice and a tub of Winston's Award-Winning Ice Cream.
Please note: Bookings are for a maximum of four guests per order.