12 Days of Christmas 2018 Day Eight
The Prize
Today, one winner will have the chance to walk away with a bundle of classic vehicle prizes from Footman James partners, Classic Motor Hub worth over £300! If you're feeling lucky, you could be the one walking away with:
250 GTO Credit Card Holder (Tan)

Inspired by historic Ferrari interiors, this 250 GTO collection credit card holder is bringing luxury back. The diamond stitching is a hallmark of this cars distinctive leather interior, and as the world's most valuable car with only 39 ever made (from 1962 to 1964) it is a perfect prize for any classic car enthusiast. The design is expertly hand-stitched by master craftsmen, featuring a slot on the front and three on the reverse. With a main central pocket, this is an extremely efficient piece perfect for everyday use.

Handmade in soft Italian leather

GTO London steering wheel emblem and embossing
Spitfire Lamp

A decorative table light that brings art into your home. This Spitfire lamp features a glass globe which is surrounded by three cast aluminium Spitfires. It is elegant and nostalgic, a brilliant addition to any home.
Cambio 80s Key Fob

A hand-crafted hallmarked sterling silver and black rhodium metal key fob. Modelled on the iconic 5 speed metal gear shift, found on classic sports cars from the 50s to the 80s. Presented in GTO London's elegant packaging with the GTO London logo on the reverse, this key fob will surely grab people's attention when you are out and about.
Borrani Traction Cufflinks

A pair of unique Borrani wheel inspired stainless steel cufflinks. Derived from the unique Borrani wheel and the all-important Dunlop tyre tread.
Classic Motor Hub Merchandise

All prizes today were from Footman James' partners, The Classic Motor Hub. As an extra little gift, why not sit back, relax and enjoy a cuppa in your new Classic Motor Hub Mug as well as branding up your car with the Classic Motor Hub car window sticker.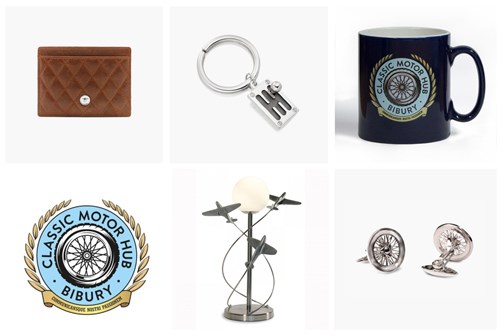 How to enter
All you need to do is answer one simple question about the Classic Motor Hub and submit your online entry form below!
Classic Motor Hub Website: www.classicmotorhub.com/about
Full terms and conditions can be found at the bottom of this page.
QUESTION: Which airfield is Classic Motor Hub based on?
Terms & Conditions
The prize draw is open to all UK residents aged 18 years or over, except employees of The Ardonagh Group Limited or any of its group undertakings from time to time, their families, agents or any third party directly associated with administration of the prize draw.
The promoter of the prize draw is Footman James (the "Promoter").
The prize draw is free to enter, and no purchase is necessary.
All entries must be submitted via online entry form on the Footman James website. Only one entry per person is permitted.
The opening date for entries is 8:00am on 20/12/18. The closing date of the prize draw is 8:00am on 21/12/18. Entries received after this time will not be considered.
The Promoter accepts no responsibility for entries not successfully completed due to a technical fault, technical malfunction, computer hardware or software failure, satellite, network or server failure of any kind.
A winner, with the correct answer, will be chosen by random draw on 21/12/18 ("Draw Date").
The winner will receive one 250 GTO credit card holder (tan), one Spitfire lamp, one Cambio 80s key fob, one set of Borrani Traction cufflinks, one Classic Motor Hub mug and one Classic Motor Hub car sticker.
The winner will be notified by email or phone (using details provided at entry) before 12:00pm on the day of the draw and must provide a postal address to claim their prize. If a winner does not respond to the Promoter within 48 hours of being notified by the Promoter, then the winner's prize will be forfeited, and the Promoter will be entitled to select another winner in accordance with the process described above.
The prize will be sent to the winner by post within 7 working days of being notified of their win.
The prize for the winner is non-exchangeable, non-transferable and no cash alternative is offered.
The Promoter reserves the right to replace the prize with an alternative prize of equal or higher value if circumstances beyond the Promoter's control makes it necessary to do so.
The decision of the Promoter regarding any aspect of the prize draw is final and binding and no correspondence will be entered into about it.
Participants are deemed to have accepted and agreed to be bound by these terms and conditions upon entry. The Promoter reserves the right to refuse entry or refuse to award the prize to anyone in breach of these terms and conditions.
The Promoter reserves the right to hold void, cancel, suspend, or amend the promotion where it becomes necessary to do so.
Insofar as is permitted by law, the Promoter, its agents or distributors will not in any circumstances be responsible or liable to compensate the winner or accept any liability for any loss, damage, personal injury or death occurring as a result of taking up the prize except where it is caused by the negligence of the Promoter, its agents or distributors or that of their employees. Your statutory rights are not affected.
Personal data supplied during the course of this promotion will only be processed as set out in the Promoter's privacy policy, which can be found at the Promoter's website.
The prize draw will be governed by English law and entrants to the prize draw submit to the jurisdiction of the English courts.