12 Days of Christmas 2018 Day Five
The Prize
Take to the sky with Finest Hour Experiences as you and one guest could be the lucky winner of a passenger ride in a Tiger Moth aircraft! Not only this, the winner will also receive two weekend tickets to Land Rover Legends!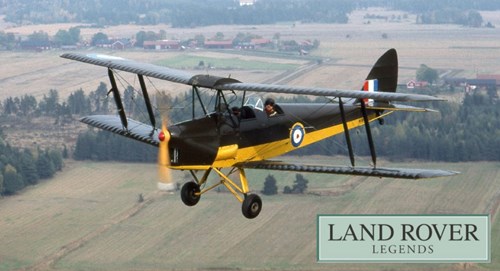 If you are looking for an unforgettable experience then look no further than this advent giveaway as you and one guest (separate flights) will be soaring above the stunning English countryside from the open cockpit of a Tiger Moth. You will also gain access to the Landy event of the year at Bicester Heritage, Land Rover Legends, taking place across the 25th - 26th May 2019. Come and celebrate arguably one of the most iconic classic vehicles of all time; whether you are a Land Rover lover or not, Land Rover Legends has a ton of entertainment with its trade village, food court, bars and evening entertainment. 
How to Enter
We are taking you back to your youth with the classic game of pass the parcel. All you need to do is comment 'Pass the Parcel' on day five's Facebook post on our Facebook page. The rules are simple. If you are the last person to comment 'Pass the Parcel' before Footman James says 'STOP!', you are the winner! Full terms and conditions can be seen below.
Terms & Conditions
The prize draw is open to all UK residents aged 18 years or over, except employees of The Ardonagh Group Limited or any of its group undertakings from time to time, their families, agents or any third party directly associated with administration of the prize draw.
The promoter of the prize draw is Footman James (the "Promoter").
The prize draw is free to enter, and no purchase is necessary.
All entries must be submitted via Footman James' Facebook account on their day 5 Christmas advent post.
The opening date for entries is 10:00am on 17/12/18. The competition will close when Footman James comment 'STOP!' in the comments on day 5's Christmas advent calendar post on Facebook. Entries received after this time will not be considered.
The Promoter accepts no responsibility for entries not successfully completed due to a technical fault, technical malfunction, computer hardware or software failure, satellite, network or server failure of any kind.
The winner will be the last comment posted on Footman James' day 5 advent post before Footman James comments 'STOP!'.
The winner and one guest will receive a 20-minute flight in a Tiger Moth airplane (separate flights) to be taken up at the Land Rover Legends event at Bicester Heritage held between 25/05/19 - 26/05/19. Weekend admission to Land Rover Legends is also included. Expenses and transport are not included.
The winner will be notified by direct message on Facebook (using details provided at entry) before 12:00pm on the day of the draw and must provide further information from Footman James to claim their prize. If a winner does not respond to the Promoter within 48 hours of being notified by the Promoter, then the winner's prize will be forfeited, and the Promoter will be entitled to select another winner in accordance with the process described above.
The prize for the winner is non-exchangeable, non-transferable and no cash alternative is offered.
The Promoter reserves the right to replace the prize with an alternative prize of equal or higher value if circumstances beyond the Promoter's control makes it necessary to do so.
The decision of the Promoter regarding any aspect of the prize draw is final and binding and no correspondence will be entered into about it.
Participants are deemed to have accepted and agreed to be bound by these terms and conditions upon entry. The Promoter reserves the right to refuse entry or refuse to award the prize to anyone in breach of these terms and conditions.
The Promoter reserves the right to hold void, cancel, suspend, or amend the promotion where it becomes necessary to do so.
Insofar as is permitted by law, the Promoter, its agents or distributors will not in any circumstances be responsible or liable to compensate the winner or accept any liability for any loss, damage, personal injury or death occurring as a result of taking up the prize except where it is caused by the negligence of the Promoter, its agents or distributors or that of their employees. Your statutory rights are not affected.
Personal data supplied during the course of this promotion will only be processed as set out in the Promoter's privacy policy, which can be found at the Promoter's website.
The prize draw will be governed by English law and entrants to the prize draw submit to the jurisdiction of the English courts.