12 Days of Christmas 2018 Day Six
The Prize
Today you can walk away with the ultimate protection for your classic vehicle worth £1000! Courtesy of Classic Motor Cars, you can give your classic car the level of detail finish and protection that it deserves with their exclusive Classic Guard treatment.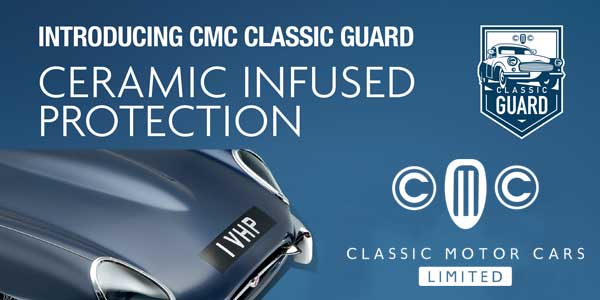 Classic Guard is a fully protective car product that has been specifically formulated for classic vehicles using cutting edge Nano technology. It is available exclusively from Classic Motor Cars, who will professionally apply your classic vehicle with this treatment. 
Founded in 1993, Classic Motor Cars have built an international reputation for classic car restoration to world-class standards and are the only company to have won the Restoration of the Year Award twice in 2011 and 2017!
Classic Motor Cars will also be hosting an open day at their base in Bridgnorth, Shropshire, celebrating 60 years of the Jaguar Mark 2. You can join the team at Classic Motor Cars on June 1, 2019 to check out their facilities and the work they carry out, whilst also enjoying various entertainment for all ages. Find out more over on their website.
How to enter
Simply answer the following question and fill out the online entry form below. Full terms and conditions can be found at the bottom of this page.
Question: What is the oldest car up for sale on the Classic Motor Car website?
Terms & Conditions
The prize draw is open to all UK residents aged 18 years or over, except employees of The Ardonagh Group Limited or any of its group undertakings from time to time, their families, agents or any third party directly associated with administration of the prize draw.
The promoter of the prize draw is Footman James (the "Promoter").
The prize draw is free to enter, and no purchase is necessary.
All entries must be submitted via online entry form on the Footman James website. Only one entry per person is permitted.
The opening date for entries is 8:00am on 18/12/18. The closing date of the prize draw is 8:00am on 19/12/18. Entries received after this time will not be considered.
The Promoter accepts no responsibility for entries not successfully completed due to a technical fault, technical malfunction, computer hardware or software failure, satellite, network or server failure of any kind.
A winner, with the correct answer, will be chosen by random draw on 19/12/18 ("Draw Date").
The winner will receive 'Classic Guard' protection from Classic Motor Cars Ltd; a fully protective car product that has been specifically formulated for classic vehicles using cutting edge Nano technology. The winner's vehicle must be a conventional road car, not a commercial vehicle and its paintwork must be in a suitable condition to be coated i.e. clean and in good condition. The car must be delivered to Classic Motor Car in Bridgnorth and collected from Classic Motor Car by the owner (no transport included). The work will be carried out at a time convenient to Classic Motor Car and will take at least one week to carry out. Classic Motor Car will require permission to use photography of the car for promotional purposes following treatment.
The winner will be notified by email or phone (using details provided at entry) before 12:00pm on the day of the draw and must provide further details from Footman James to claim their prize. If a winner does not respond to the Promoter within 48 hours of being notified by the Promoter, then the winner's prize will be forfeited, and the Promoter will be entitled to select another winner in accordance with the process described above.
The prize for the winner is non-exchangeable, non-transferable and no cash alternative is offered.
The Promoter reserves the right to replace the prize with an alternative prize of equal or higher value if circumstances beyond the Promoter's control makes it necessary to do so.
The decision of the Promoter regarding any aspect of the prize draw is final and binding and no correspondence will be entered into about it.
Participants are deemed to have accepted and agreed to be bound by these terms and conditions upon entry. The Promoter reserves the right to refuse entry or refuse to award the prize to anyone in breach of these terms and conditions.
The Promoter reserves the right to hold void, cancel, suspend, or amend the promotion where it becomes necessary to do so.
Insofar as is permitted by law, the Promoter, its agents or distributors will not in any circumstances be responsible or liable to compensate the winner or accept any liability for any loss, damage, personal injury or death occurring as a result of taking up the prize except where it is caused by the negligence of the Promoter, its agents or distributors or that of their employees. Your statutory rights are not affected.
Personal data supplied during the course of this promotion will only be processed as set out in the Promoter's privacy policy, which can be found at the Promoter's website.
The prize draw will be governed by English law and entrants to the prize draw submit to the jurisdiction of the English courts.