12 Days of Christmas 2020: Day 9
The Prize
Today we're giving you the chance to win a Gtechniq Master Maintenance Kit worth £210!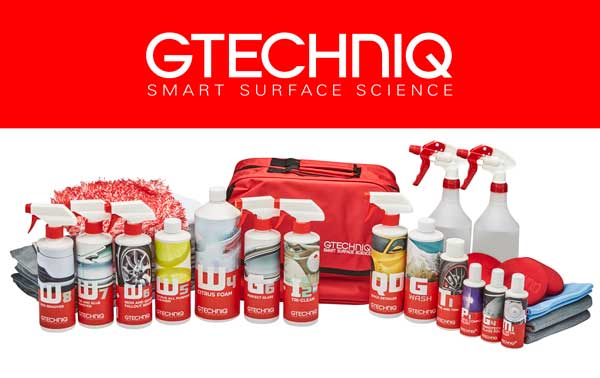 Born Out of Pure Science
Gtechniq was founded by quantum physicist Drew Gill in 2001, out of total dissatisfaction with the performance of paint protection products at the time. Everything from waxes, to new-fangled polymers and PTFE based miracle treatments, nothing on the market offered any meaningful durability, either in looks, or protection. Worse still, he found that most of the products performed poorer than the paints they were supposed to protect.
The Technology Behind The Science
Gtechniq smart surface science combines the latest in fields such as nanochemistry and supramolecular chemistry, with rigorous real-world and laboratory testing. The premise for all Gtechniq products is to hit a sweet spot of performance, ease of application and price. We apply the same principle to our whole range of products
Advances in silicon technology driven by a high global demand for faster and smaller processors have thrown up a wealth of new and innovative materials, offering a range of solutions that were never possible before. Gtechniq has the experience, connections and motivation to bring to the market, class leading products, proven to improve every aspect of surface care.
To find out more about Gtechniq visit www.gtechniq.co.uk or head over to their Facebook and Instagram pages.
How To Enter
To be in with a chance of winning, we're asking you to come up with your own version of the classic Christmas song, Last Christmas by Wham! by filling in the blanks!
"Last Christmas  _________ but the very next day, ________"
Simply comment with your submission on day nine's 12 Days of Christmas post on Facebook, Twitter or Instagram. Alternatively, you can send your entry to us via email.
Our judges will decide the best and most creative entry to win and will be looking out for family-friendly entries with classic motoring themes!
Full terms and conditions can be found below.
Best of luck!
Never Miss A Giveaway
Sign up to our mailing list to receive daily emails with details on how to to enter each day of the 12 Days of Christmas, plus our regular newsletter.
Day 9 Terms & Conditions
The prize draw is open to all UK residents aged 18 years or over, except employees of The Ardonagh Group Limited or any of its group undertakings from time to time, their families, agents or any third party directly associated with administration of the prize draw.
The promoter of the prize draw is Footman James (the "Promoter").
The prize draw is free to enter, and no purchase is necessary.
All entries must be submitted via Footman James' Facebook, Twitter or Instagram on the correct day OR by email to news.views@footmanjames.co.uk. Only one entry per person is permitted
The opening date for entries is 09:00am on 09/12/20. The closing date of the prize draw is 8:00am on 10/12/20. Entries received after this time will not be considered.
The Promoter accepts no responsibility for entries not successfully completed due to a technical fault, technical malfunction, computer hardware or software failure, satellite, network or server failure of any kind.
The winner will be decided by a panel of judges and an independent supervisor as to which answer is the best the following working day, 09/12/20 ("Draw Date").
This promotion is in no way sponsored, endorsed or administered by, or associated with, Facebook, Instagram or Twitter.
The winner will receive a Gtechniq Master Maintenance Kit.
The winner will be notified by email or by direct message via their chosen social media channel (using details provided at entry) on the day of the draw and must provide Footman James further details to claim their prize. If a winner does not respond to the Promoter within 48 hours of being notified by the Promoter, then the winner's prize will be forfeited, and the Promoter will be entitled to select another winner in accordance with the process described above.
The prize for the winner is non-exchangeable, non-transferable and no cash alternative is offered.
The Promoter reserves the right to replace the prize with an alternative prize of equal or higher value if circumstances beyond the Promoter's control makes it necessary to do so.
The decision of the Promoter regarding any aspect of the prize draw is final and binding and no correspondence will be entered into about it.
Participants are deemed to have accepted and agreed to be bound by these terms and conditions upon entry. The Promoter reserves the right to refuse entry or refuse to award the prize to anyone in breach of these terms and conditions.
The Promoter reserves the right to hold void, cancel, suspend, or amend the promotion where it becomes necessary to do so.
Insofar as is permitted by law, the Promoter, its agents or distributors will not in any circumstances be responsible or liable to compensate the winner or accept any liability for any loss, damage, personal injury or death occurring as a result of taking up the prize except where it is caused by the negligence of the Promoter, its agents or distributors or that of their employees. Your statutory rights are not affected.
Personal data supplied during the course of this promotion will only be processed as set out in the Promoter's privacy policy, which can be found at the Promoter's website.
The prize draw will be governed by English law and entrants to the prize draw submit to the jurisdiction of the English courts.