03 March, 2015
Lovers of classic cars can look forward to one of the best-loved shows on four wheels next month.
May Day bank holiday weekend's Donington Historic Festival (May 2-4) promises to be a real treat. It includes everything from Formula 1 and Grand Prix speedsters to almost 70 Formula Junior models.
And you can get 20% off your ticket, thanks to Footman James classic car insurance.
That's right. We partner with the Donington Park venue and it is offering our customers a fifth off admission prices to the festival when they use the code FJDHF15.
So what will visitors get for their money?
The three-day event sees kings of speed from bygone ages dating from the 1990-somethings back to the roaring 1920s.
You'll see machines piloted by F1 legends such as Michael Schumacher, Ayrton Senna, Stirling Moss and Jack Brabham.
This special feature is to celebrate the circuit's 80th anniversary as a stager of Grand Prix races.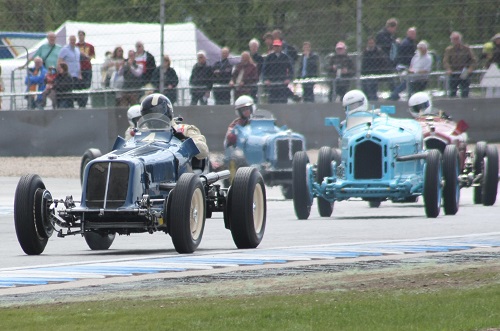 Visitors will also see:
- Le Mans originals
- sports racers
- GT cars
- pre-war sports cars
- sports models from the 1950s and 1960s
- touring cars
Classic race match-ups
Two special races are bound to turn back the clock for nostalgia-loving car fans:
Lotus v Cooper
In the Lotus corner sees models headed by Stephen Bond's Lotus 18. F1 aficionados will recognise this as the car which propelled Moss to Monaco's Grand Prix title in 1961.
In the Cooper corner comes the T53 as once driven by Jack Brabham. Great support comes from the Cooper T43, which Brabham also raced along with Bruce McLaren.
Aston Martin v ERA
Moss fans again have reason to purr in the shape of his former DBR4.
ERA's challenge, meanwhile, is spearheaded by Nick Topliss's R4A. This has previous form at Donington; Pat Fairfield having won the 1935 Nuffield Trophy's 150-mile race in one.
For something a bit more modern...
Ayrton Senna's Toleman TG-184-01: This powerful Hart Turbo caused a sensation in 1984, especially during Brands Hatch British Grand Prix qualifying. He also played a starring role in the 1984 Monaco Grand Prix, taking second place in the race behind Alain Prost in the mighty McLaren.
Nelson Piquet's 1989 Camel Lotus/Judd 101/3: This distinctive yellow dream machine was also driven by Satoru Nakajima, the latter steering it to its best-ever fourth position in Australia's grand prix.
Michael Schumacher's 1993 Camel Benetton Ford B193b: This helped the German and stable mate Ricardo Patrese to the top six that year.
Best of the rest
- Dozens of prestigious car clubs will form a special "living driving museum"
- Supercars throughout the decades
- Group B machines
Get your discounted tickets
Advance discounted admission costs just £20 for a one-day ticket; £32 for two-day tickets and only £45 for a weekend pass (on-the-gate admission costs £25, £40 plus £60 respectively).
It's free for children under 16 years old.