A childhood dream made reality via Harry's Garage
At Footman James, we value all feedback on our services, so when we received a particularly engaging 5 star review from a new client on our Feefo page, we caught up with the reviewer to ask more about their journey into classic car ownership and discover how, via a Harry's Garage video, a long-forgotten childhood dream was finally fulfilled.
Martin Rediff had been a devotee of the Mercedes Benz SL from the moment he spotted one in his neighbourhood, while on a bike ride. A two-tone example with a contrast roof and lashings of chrome, the 11-year-old Martin was smitten and would regularly cycle around the area just to have the chance to stop and stare at the machine.
A decade or two later found Martin beginning to think about the possibility of adding the joys of a classic car to his life. The list of contenders for the space in his garage was almost endless and, as he began to think more deeply about the purchase, the Mercedes and his childhood love for it were both far from his mind. That was, until he happened upon the Harry's Garage review of the Mercedes R107 SL. At once, Martin was 11 years old again, and he knew that there was only one car for him.
As Harry Metcalfe points out, although it is an increasingly rare and appreciating classic car, the R107 model represents great value in relation to its exclusivity and, thanks to its robust build quality, it is a reliable classic that can be easily used on modern roads. With this in mind, Martin headed to a specialist in the cars to have a browse. Among the array of SL's on sale was a 1984 example, a 280SL. Martin had thought that he would want to purchase a later model year of SL, for its galvanized bodywork and updated engines, however when he saw this particular car, he was instantly captivated.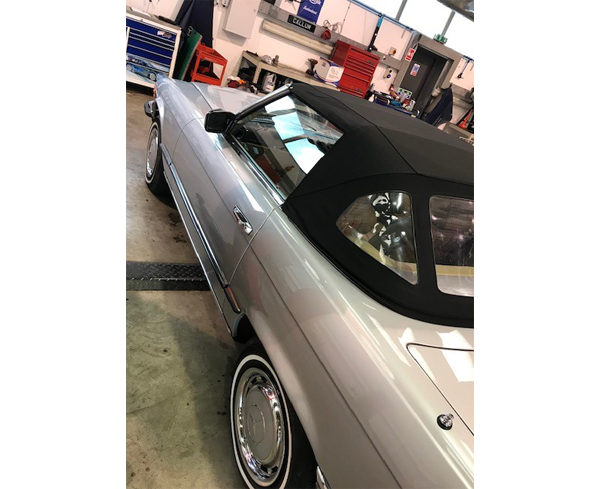 "It spoke volumes to me. In silver, with a factory-original dark grey contrast roof, chrome hubcaps, and the iconic sports-check cloth interior, it was just so elegant and every bit as glorious as the car I remember as a boy. With only three owners, 32,000 miles from new and absolutely no rust or restoration anywhere on it, I knew it was the car for me.
I bought from the SL shop because they are a leading expert on the cars, and I wanted to ensure I was buying a good one, rather than a car that would need constant attention and prove a frustration. I'm pleased I made the right decision, as I would hate to be a slave to a car – so owning this SL has been a dream. They make very cost effective classics, as the parts are easy to come across, they are robustly made and mechanically uncomplicated."
Martin had seen that Footman James was the sponsor of Harry's Garage, so it was a natural choice to approach us for a quote on his new pride and joy. We are delighted that he found the online quote and buy service a pleasure to use.
"I felt very comfortable with the whole process from start to finish," explained Martin. "The online system was quick and simple to use. I was very happy with the price, and I felt secure in the knowledge that Footman James were experts in their field, so I accepted the quote there and then."
If you're searching for a classic specialist in your area, visit Find A Garage from Footman James. Simply input your postcode to find a classic garage near you!
Do you have an R107, or are you looking to get one of these classics? If so, let us know in the comments below.