29 July, 2016
A 1932 Alfa Romeo P3 has won the Chateau Impney Footman James Concours d' Elegance.
This red classic Italian car overcame the challenge of a star-studded field, including magnificent Morgans and astounding Aston Martins.
A Footman James customer actually owns the octogenarian eight-cylinder machine, which has a stunning race track history.
The P3 - a potted history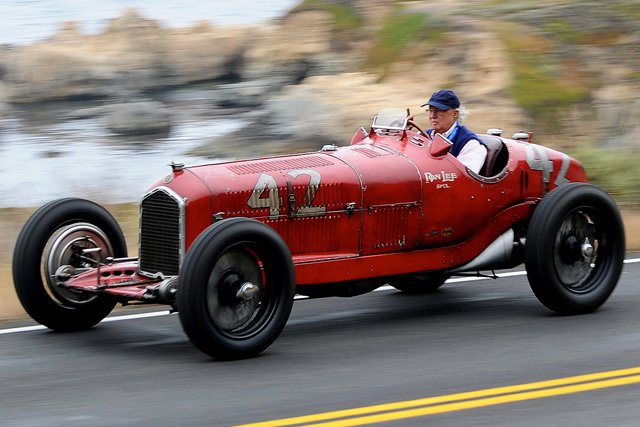 • 1932: Vittorio Jano's Alfa Romeo masterpiece is born
• 1938: Racing guru Frank Griswold, part of the Griswold racing dynasty, brings the machine to Britain. He plans to race it in the US at the iconic Indianapolis 500
• 2010: Hugh Taylor buys the Alfa Romeo from US businessman David Uihlein and shows it at the prestigious Pebble Beach concours that same year
• 2016: Wins the Chateau Impney Footman James Concours d' Elegance
Pushing the Alfa all the way
The public awarded third place to the 1928 Amilcar C0 car.
This regal-looking French model also packs a punch under its bonnet, with a top speed of 120mph.
The white six-cylinder 1100cc model wasn't originally a huge success piloted by Louis Devand.
It was only when Georges Grignard got behind the wheel that its fortunes started to change.
He piloted the Amilcar to runners-up spot at the Bol d'Or in 1936.
It was even more successful 78 years later when it took the Amilcar Salmson Register's Bob Porter trophy for best historic car restoration of 2014 a year after its overhaul.
Best of the rest
A Bugatti T57s, 3.3 litre, supercharged, 8 cylinders, manufactured around 1937 and is the only example of that body design took second place in the Footman James concours in a competition that also boasted the following classic motors:
• 1929 Aston Martin International Three-Seater, one of only two original survivors
• Voisin C14 Top Hat Coupe (1930)
• Morgan Brooklands Super Aero (1932)
• 1934 Aston Martin Ulster
• 1960 Aston Martin DB4 GT
• Morgan Plus 8 Prototype (1968)
Chateau Impney highlights
• The crowd itself: More than 14,000 spectators visited the Droitwich venue of Chateau Impney during the weekend - a 50% hike on last year's figure
• Nearly keeping it in the family: Martin Jones's Brabham BT21-B smashed the hill climb lap record, knocking nearly two seconds off Jack Woodhouse's 42.42sec 2015 mark. Jones clocked 40.5 secs, but earlier Jack's father Mark was the first to beat last year's record
• Devilishly good fun: A Battle of Britain fly-past and Red Devils parachute jump illuminated the skies