26 July, 2017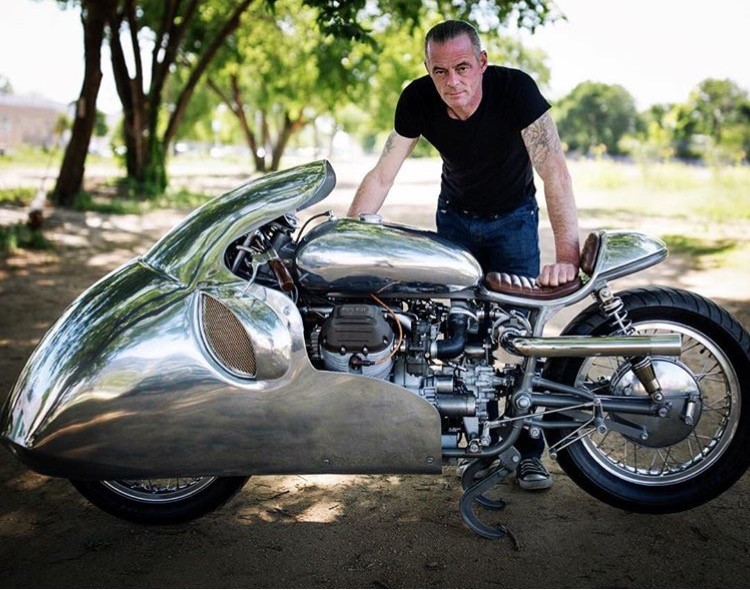 Working on everything from bicycles to WWII fighter planes, Australian-born Craig Rodsmith – a custom motorcycle maker – has now reinvented a vintage Italian classic.

Founder of the Illinois company Rodsmith Motorcycles, Craig has been creating custom masterpieces for over 25 years.

Now he has put to work his hands-on experience in body work, paint, fabrication and mechanics, to create a dustbin racer with a truly alluring aesthetic that has caught the eye of classic petrolheads across the globe.

Exquisite chrome hood
Shaped by hand into a smooth and near-blinding piece of art, this custom Guzzi has earned the name "silver bullet".

With its upswept rear and sparking chrome fairing, the creation was picked up at its first outing, at the Handbuilt Motorcycle Show in Austin Texas.

A bare tank, leather seating and handmade gauges have all been finely tuned to create an outstanding piece of craftsmanship.

And the real crowd pleaser is the exquisite chrome hood that shines in magnificent glory.

Rodsmith started out by contouring a 1969 Ambassador loop frame, using hand formed techniques such as reshaping and shaving to create the show-stopping Guzzi.

He added 950cc engine that has been built from an 850cc Eldorado-based system by mechanical specialist, The Guzzi Doctor.

It's equipped with a Garett-style turbo system and 36mm Dell'Ortos.

A stainless-steel exhaust system and classic Borrani wheels finish of the magnificent specimen of engineering and design.

In the blood
According to the Rodsmith website, as a child, Rodsmith "customised anything he could get his hands on", while growing up in Melbourne, Australia. His first modified piece was a 1957 BSA when he was just 12 years old.

Today, his creations cover all types of motors and designs range from classic traditional to far-out radical.

And we like them.