Another 'Best' at the International Classic Motorcycle Show
Bright and early our Footman James team set off to the International Classic Motorcycle Show, held at the Staffordshire County Showground. Well into its fourth decade, the classic bike show is still going strong as hundreds of enthusiasts headed to the event.
Over on our Footman James stand we had two special bikes courtesy of the National Motorcycle Museum, these included:
1963 500cc Marsh MR4 
1946 AJS Model 18
One of our favourite moments at the show was when we received the award for Best Trade Stand Exhibit for our Marsh MR4.
Marsh Specification
Engine: 495cc (54 x 54mm), air-cooled double overhead camshaft in-line four, four Amal Concentric carburettors, magneto ignition
Transmission: Chain primary drive, dry multi-plate clutch, four-speed gearbox, chain final drive
Chassis: Tubular double cradle, telescopic fork front suspension, swinging arm rear suspension, drum brakes
Wheels: 19in front & rear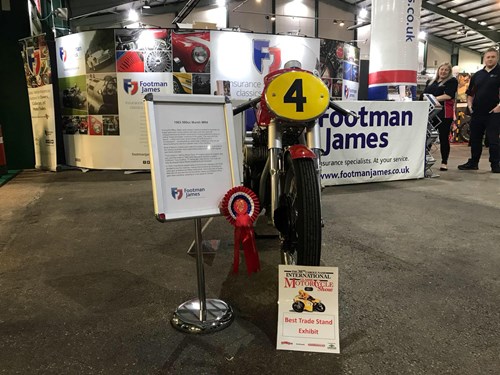 Other deserved winners were awarded their rosettes on the Sunday, this included Best Classic Motorcycle and Best Post War Motorcycle.
Best Classic Motorcycle - 1966 Triumph TR6T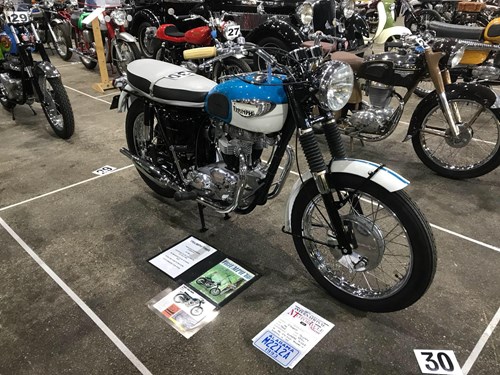 Best Post War Motorcycle – BSA Spitfire Special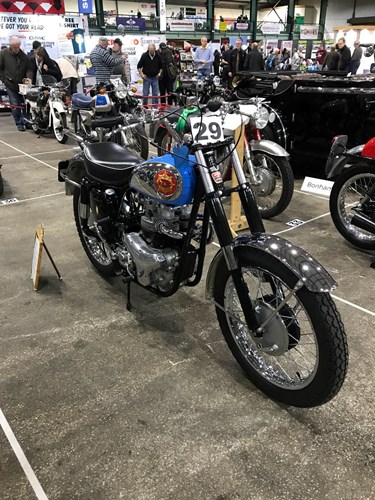 Awarded to the stunning BSA, this classic bike was built from scratch by the owner of Spitfire Specifications from parts bought at autojumbles. The heavyweight off road model was started in 1957 and aimed at the American market. Known originally as the Rocket Scrambler, its name was changed in 1959 to the Spitfire Scrambler with production ceasing in 1961.
Away from the awards, was a new feature for the event, the VMCC Hall. The room had been transformed into a classic bike display to mark the achievements of Len Hubert Vale-Onslow, a motorcycle builder who, along with his brother, invented the S-O-S racing bike in 1926.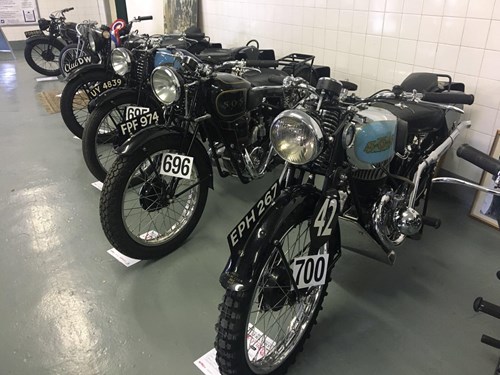 On display were a range of classic bikes including an OK Supreme raced by Len Vale-Onslow, a 1937 S-O-S 250cc Club DW, a 1931 Francis Branett 197cc 'Black Hawk' and a 1927 Triumph Type N 4.9 horse power. Adding to the mix was a beautiful, and extremely rare, 1936 S-O-S 250cc classic motorcycle; the only one in existence and built by Len Vale-Onslow himself.
As well as the VMCC Hall, there were plenty of private exhibits that truly illustrated how each classic bike has a story behind them. One of these was from Gordon Norman Davis, who brought along his restored 1917 Ixion in memory of his late father who fought in the Great War between 1914-1918.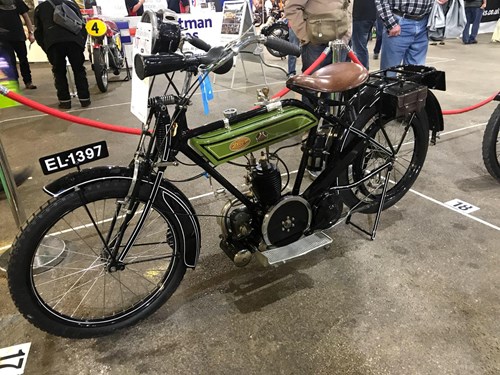 Now 100 years since World War 1, David searched high and low to find an Ixion that was an identical model to his father's back in 1918 . Davis restored his motorcycle back to its correct specification with a 269cc Villiers Engine and a 2 speed Albion Gearbox.
With the International Classic Motorcycle Show being the biggest of its kind, autojumbles and classic bike clubs flock to the show year on year.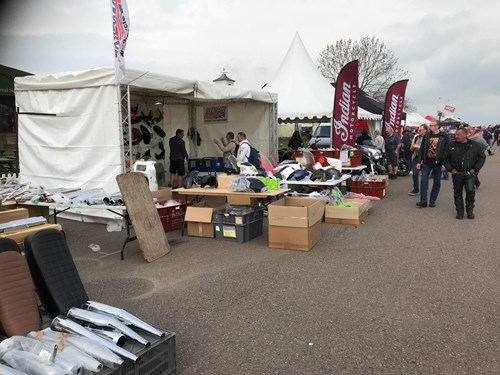 Despite all the bad weather we have been having recently, the weekend was glorious and outside was the perfect place to roam around looking for those spare parts, tools or cleaning gear.
As well as this, the Fox family returned for their daredevil display outside at the Wall of Death, a 20ft high vertical wall that the family circle around on their vintage Indian Scout bikes.
All in all, the show was another success and we can't wait for October when the 25th Classic Motorcycle Mechanics Show hits Stafford County Showground. A show that will be celebrating the increasing popularity of modern and emerging classics from the 1960s through to the 1980s.
If you didn't get chance to pop over this time and say hello or to get a quote, you can head over and check out our classic bike insurance to see whether we can get the right cover for you.