Artist Profile: Jonny Ambrose
Jonny Ambrose is an artist with a lifelong passion for automobiles, airflow and aerodynamic shapes. Using traditional techniques and cutting-edge processes, he incorporates digital design and manufacturing to produce three-dimensional works of art.
Focusing on classic and historic cars, his sculptures capture the very essence of speed and movement, and Jonny's work can vary from the obvious to the abstract, depending on the mood he wants to convey. Undertaking private commissions and pieces for purchase, his work ranges from wall-hanging sculptures to award trophies for car concours events.
Footman James spoke to Jonny to find out more about his work.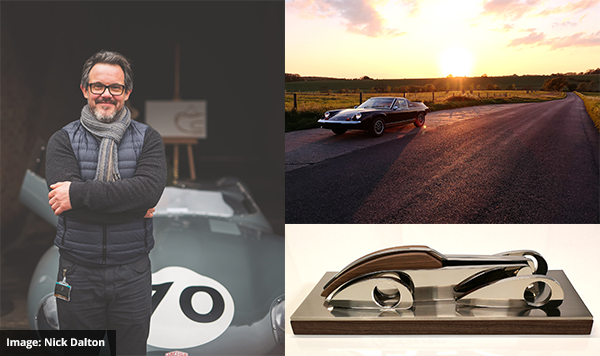 What led you to become an automotive artist and how has that influenced your work?
My fascination with cars grew from childhood books: the variety of shapes and sense of speed really appealed. My grandpa introduced me to building model kits and using tools and, along with Lego, I loved constructing objects from separate parts. It was that tactile sense of crafting something with your own hands that fascinated me.
I continued this passion, and a Fine Art degree led to exhibitions at various galleries, car events, and even the Donington Grand Prix Museum. Today scale model kits are still a part of my creative process as they're an excellent tool for assessing body shape and what lies within it.
How would you describe the process behind your work?
In designing my sculptures, I try imagining two aspects: the key design shapes as the car designer conjured them, and the sense of aerodynamic flow over and beyond the car. I start by sketching my ideas but often create a 3D digital version in CAD software to hone my interpretation of the subject into the sculpture form.
Wood and its beautiful grain feature in my sculptures, and I use the ancient art of steam-bending to manipulate the grain and make curved and twisted shapes. I balance this traditional technique with digital processes for laser cut and 3D printed elements. Similarly, each sculpture is a balanced composition of wood, metal and carbon fibre.
What inspires you?
I draw from aerodynamic shapes, but also from mechanisms, graphics and blueprints. Maps fascinate me and blueprints are maps for the machine: how you read the sectional contour lines will translate into a vehicle's shape.
Exploring new ways to portray a car really inspires me. Being able to see through a sculpture is an important aspect of my work, because moving around a 3D form offers constantly changing compositions of the sculpture elements - something a flat image just can't do.
I do like to create intrigue with my pieces. Although classic cars are the subject, some works are not easily recognisable, being more a visual puzzle of elegant lines and shapes, and these are designed to appeal whether you love cars or just love art.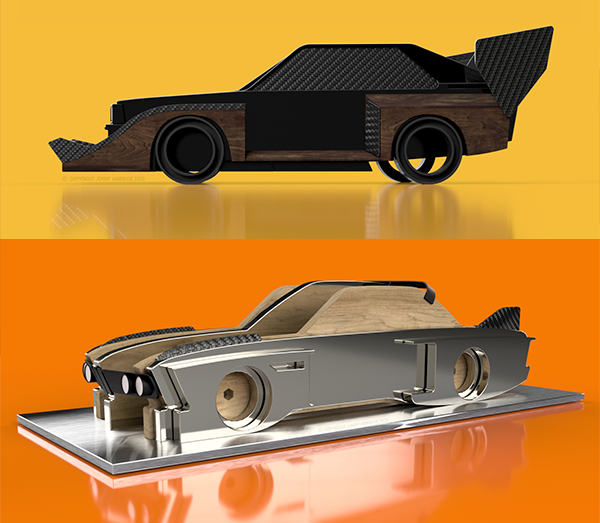 Which cars designs do you consider significant?
Marcello Gandini's Bertone designs are the ones I admire most – sublime proportion, line and angular form. In the context of the age, the Lamborghini Miura blew everything away, combining low-slung curves and clever design packaging. The Alfa Romeo Stradale 33 and TZ2 are equally beautiful.
For me, the 'space race' in car design was the late 60's/early 70's and I love the concept cars of this age. The 1968 Bertone Carabo featured scissor doors, the 1969 Pininfarina 512S Speciale had the tilt forward canopy in a similar vein to the 1969 Holden Hurricane, and 'space odyssey' 1970 Pininfarina Modulo.
However, my outright favourite is probably the 1970 Lancia Stratos Zero, another Gandini masterpiece. It's possibly the ultimate in way-out expression, until the arrival of the Aston Martin Valkyrie in 2017.
What interesting cars are in your garage and why?
The early 70's inspires my garage choices. It's an era of distinctive shapes, styles and interiors full of charm.
My first classic had to be the car I dreamt of owning since childhood: A 1972 Lotus Europa Special (pictured above) in Black and Gold. Low slung, great handling and with a punchy 'big valve' engine, it has a beautiful time capsule of an interior.
A 1970 Lamborghini Espada S2 in 'spaceship' Silver is the grandest classic I own. The V12 sounds amazing and my LHD GT has a really interesting history.
Porsche 914s have always fascinated me. They're another 'marmite' shape. It's such a practical design, and handles so well. Mine is a long-term project, and I want to make it a little special... watch this space.
You can see more of Jonny's work at www.jonnyambrose.com and can follow him on Instagram: @jonnyambrose.artist