Artist Profile: Paul Ward
In the latest instalment of Meet the Artist, Footman James catches up with the award-winning, Birmingham-based photographer Paul Ward to find out a bit more about his motoring history, as well as his stunning images.
FJ: You are as well known for your fashion and commercial photography as you are for your automotive imagery. How did you get into both?
PW: My passion for cars pre-dates my photography by a long way, but while my passion for cars burned away, my work as a photographer began in nightclubs. Initially it was a great way to get into the clubs for free and have a good night out while taking some pictures of the parties. Over time, I started doing portraiture for the DJs and the dancers, which led me into my commercial work in fashion. As my work built up, it seemed only natural that I then turned my attention to photographing my passion, which was cars.
FJ: Your own classic, the Fiorano is featured in some of your work. Is this your first classic car?
PW: My first car was an Austin Mini, but that was before they had become 'classic'. At the time it was just a used car. I bought if for £50, which seemed like a lot, and promptly went out and airbrushed flames on to the bodywork, which is where my love of customisation began. From there, I moved up in the motoring world into a Triumph Spitfire MK III. The car had awful bodywork when I bought it, so in the process of improving this, I fitted a more sporting Le Mans-style bonnet to the car, which I loved for its cowled headlights. I kept that car for more than 20 years until I sold it and bought my Fiorano.
FJ: The Fiorano is a rare machine indeed. Can you tell us more about it?
PW: One of the many reasons why I love the car is that most people don't know what it is. It's a very low-volume sports car that was designed in England, but with a lot of styling cues taken from the Ferrari 166. The chassis and running gear are from a Triumph Spitfire, but it has the engine from a Dolomite.
I bought it as a rolling shell on eBay from the previous owner and, as part of the restoration process, I added my own styling touches. The original front end was a little blunt, so over the course of several weeks, I fashioned my own cast for a new nose cone with a prettier shape, and finished it off with the inverted grille from a Jaguar Mk2, which really compliments the lines.
FJ: The car features in your work both in the studio and on location. Do you have a preference when photographing cars?
PW: While I love motoring events, for me, the studio is ideal for car photography as you can really take your time with the creative process. Because you have full control of the lighting and the surroundings, you have the chance to highlight exactly what you want, and really play with the features that you want to bring out in the image. At events, you can get wonderful action shots and great movement, but capturing the essence of a car's design can be tricky. That said, I love going to car events, and I'm looking forward to getting to some next year.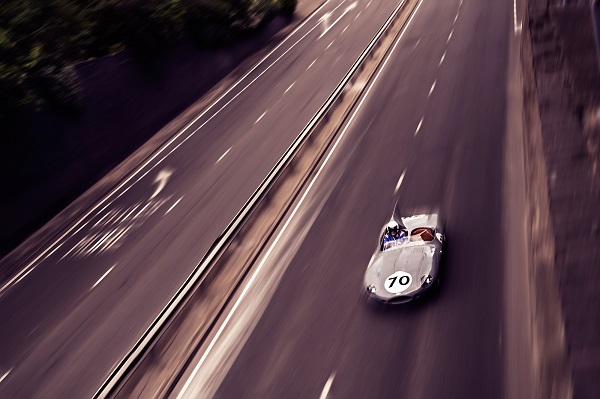 FJ:  We have enjoyed seeing your car at the FJ Coffee & Chrome events. Will we see you at any of these next year?
PW: Absolutely. Local events are what it's all about for me. I only managed to attend one this year before COVID struck, so I'll be getting out in the Fiorano, or my Porsche Boxster as much as possible.
To see more of Paul's incredible images, view his website here, or purchase a limited edition print, from a carefully curated group of automotive photographers please visit the Limited 100 website.