21 July, 2015
A classic car in "good condition" has been scrapped, due to the risk posed by asbestos in its Dudley lock-up garage.
One classic car enthusiast who tried to save the old Sunbeam Rapier fastback said that a thorough hosepipe clean would have done the job.
The 44-year-old model had been moored in the Dudley Council-owned, asbestos-roofed garage over two decades. The problem was only highlighted when the council opted to take down the Norton-based site near Stourbridge.
Emlyn Bowdler tried to take issue with the local authority in Dudley, also home to Footman James classic car insurance.
But the classic Ford owner could not bring a stay of execution for the 1971-built classic.
The Sunbeam Rapier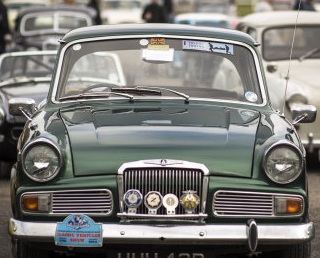 The Rapier nowadays quite often flies under-the-radar, but it's an instantly recognisable car. It was built by the now-defunct Rootes Group, which operated between 1955 and 1976.
It came in two body styles: the "Series" and the "Arrows". The latter were built in a fastback shape - with a behind that sloped right down to its bumper - between 1967 and 1976.
What Emlyn said
He received a council letter earlier in 2014, but heard nothing more until just prior to the demolition.
Mr Bowdler switched his own Ford Consul MkI into a different, local authority-owned, rental lock-up. But the Rapier remained where it was and appeared in a "good", "saveable" condition.
Mr Bowdler called the council's insistence on pressing ahead with its demolition both "sad" and "very annoying". Officials thought the garage's asbestos roof had contaminated it, he said, but a thorough hosepipe going-over could have cleaned the vehicle.
Sunbeam Rapier Owners Club (SROC) officials were equally vexed. Club secretary Glen Mason says the Rapier fastback in question was a scarce automatic with many enthusiasts out there ready to rescue it.
He thinks the story would have had a different ending had the model been a more high-profile classic such as a Bugatti.
What the council said
The authority claims it sent written letters out to the garage licence-holders last summer, telling them their contracts were ending.
The council says it behaved "correctly" and "reasonably". The Dudley Council spokesman said the decision was made because of clear risks presented by the garages' condition.
He said that phone numbers were distributed to licensees if they wanted to talk further about the matter.
What about the owner?
No joy, we're afraid.
SROC officials used its records to track down the owner. But they have not been able to get in touch.
Think you know the owner? Get in touch with us on Facebook and Twitter.