Auction Classic Bike Lovers Last Wish
A classic motorcycle fanatic sadly died in March. But his bikes live on, in accordance with his last wishes, thanks to a series of small auctions.
Lancashire-based Dale Winfield spent four decades building up an impressive collection of 250-plus machines.
Up to 200 of these are currently being sold in small auctions. One of these poignant models was auctioned off last month (July 25) when a quirky Scot Squirrel built in 1938 went under the hammer.
The best price recorded so far for one of Mr Winfield's collection bikes is the £20,000-plus for his Manx Norton. But North Yorkshire-based Mathewson's auctioneer expects eventual sales will head well into six-figure sums.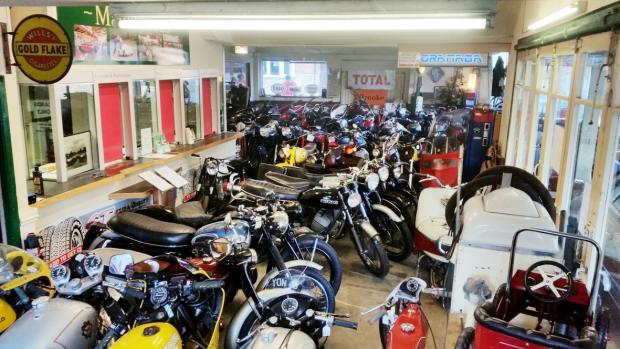 Celebrity bikes
The rest remain in the care of Mr Winfield's family. These machines include ones piloted by four-time world superbike champion Carl Fogarty, who went to Mr Winfield's funeral in remembrance of his first sponsor after turning professional.
One belonged to Hollywood icon Steve McQueen and another is a stunt bike used by Eddie Kidd.
All these will stay on show outside Mr Winfield's clothes and camping store in Haslingden, Lancs.
A classic motorbike-owning legacy
The popular businessman's express wish was for enthusiasts like himself to snap up the bikes – particularly people who began their collection from scratch and who will ride the bikes themselves.
Geoff Holmes, his workmate, said the bikes are being disposed of in a way Mr Winfield would have liked. He called his ex-colleague a "self-made" person.
Outdoors man
Mr Winfield's business revolved around the great outdoors and his personal life was no exception. He didn't just keep his treasured machines for show, and piloted the majority of them until he was 60.
The Only Fools and Horses theme tune was played at Mr Winfield's public service. He was described as a "wheeler dealer" by his family, the Rossendale Free Press reported.
The father-of-five died aged 70 having been diagnosed with cancer two years earlier. He leaves a 59-year-old wife, June, children Joseph, Janine, Claire, Jodie and Suzanne plus grandchildren Reece, Max, Troy and Poppy.