29 January, 2015
Classic car fanciers will continue their not-so-private love affair over Valentine's Day weekend, at a specially-themed event.
If you're old enough to remember the mid-1960s, then you're old enough to remember that much of British youth was polarised into two groups; the rockers and the mods.
It was an era of leather jackets, suits and Parkas; of motorbikes and scooters; of rock 'n' roll, ska and beat music; of greasy spoon cafe stop-offs and dodgy haircuts, and seaside resort skirmishes.
Next month the sixth edition of The Footman James Great Western Autojumble will offer a nostalgic celebration of that culture in the Somerset town of Shepton Mallet.
Yes, the rockers and the mods provide the new theme for this year's bargain hunters' Aladdin's Cave of auto-bargains.
So what's on offer?
- Bargain buys from various autojumble sellers and industry traders. Perhaps you can get that elusive restoration part you've hunted high and low for?
- Charterhouse Auction's exclusive sale.
- A special theme of mods and rockers, so why not get into the party sprit and dress up?
- You can see cars showcased in the showground's main hall featuring classics from the early 1970s, 1960s and 1950s
Footman James; A headline act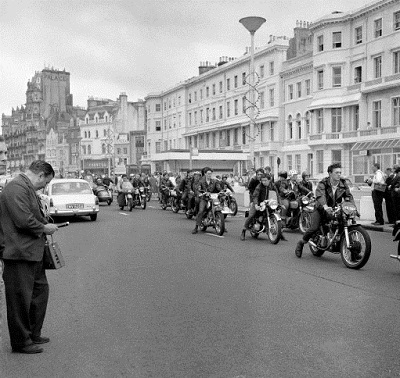 The Footman James Great Western Autojumble is one of over 40 famous shows and exhibitions that FJ will have a presence at in 2015.
These include:
- The NEC's Restoration Show (March 28-29);
- The NEC Classic Motor Show (November 13-15); and of course,
- The Footman James Manchester Classic Car Show (September 19-20)
What we're saying
FJ director David Bond describes next month's event as hugely "important" for the company, giving us a great chance to gather with several current customers besides other connoisseurs.
The 2015 itinerary we're already lined up for - kicking off with the Somerset-based Autojumble - has all the makings of a very "exciting" year.
Where, when and how much?
The Royal Bath and West Showground, Shepton Mallet, Somerset BA4 6QN, on Saturday-Sunday, February 14-15 (9.30am-4pm).
Adults pay £9 on the door or £18 for a two-day pass. Buy online and you can get the cheaper rates of £8 (day) and £16 (whole weekend).
Children and parking are free.