Back To The Future Car Could Be Set To Rematerialise
OK, so we can't guarantee you that it will take you back to 1955. But the car star of Hollywood movie trilogy Back To The Future could be making a comeback on the roads...
The DeLorean DMC-12's success was as notable on screen as its failure was off it.
The original company collapsed two to three years before its only model was immortalised in Michael J. Fox's time-travel comedy.
The number of DeLoreans rolling off the firm's production line in Dunmurry, in County Antrim, never exceeded the 9,000 mark.
But now it's been revealed that around 1,000 of the car's iconic doors have survived.
They are said to be "resting" in a US warehouse and the new DeLorean Motor Company (DMC) has hinted that a maximum run of 500 cars could be about to belatedly cash in on the movie's success.
Who knows? You too could soon be driving around in a DeLorean covered by classic car insurance.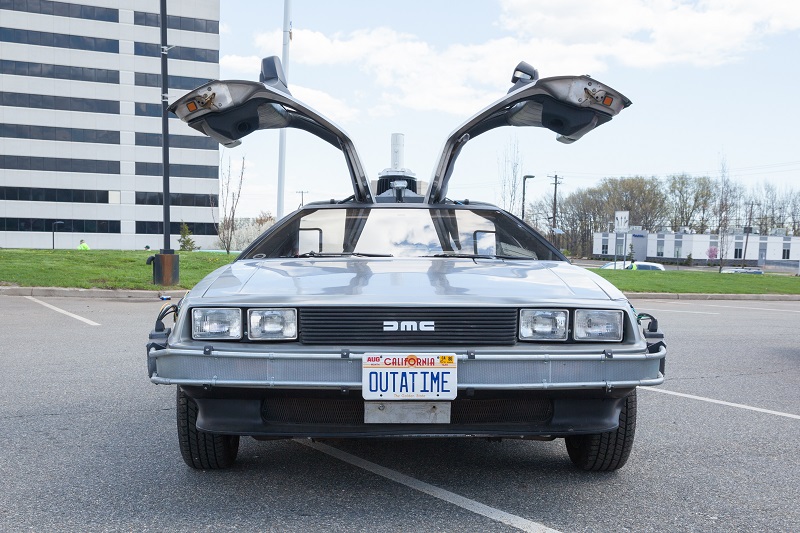 So what makes the DeLorean DMC-12 special?
The car used in the movie was a sort of TARDIS on wheels, something that even the innovation wizards at Jaguar, Ferrari and Aston Martin haven't been able to come up with.
But even without its time travel-enabling "flux capacitors", the DMC-12 still has much to love, whatever the sales figures said. Highlights include:
- distinctive silver-coloured gullwing door
- 0-60mph in just 8.8 seconds
- revolutionary fibreglass chassis
- stainless steel shell
A comeback on the cards?
Texas-based DMC owns all 2,800 parts surviving from the original Dunmurry plant, selling them to DMC-12 owners and stockists worldwide.
Its vice-president James Espey says the firm owns around 1,000 doors.
He hints that the worst obstacle has already been overcome since the doors are the most difficult part to reproduce.
Mr Espey says the doors are pretty evenly matched in rights and lefts. This makes a maximum of 500 new models feasible, he added.
Enduring car, enduring movie
Despite celebrating its 30th birthday this year, Back To The Future's legacy shows no sign of slacking.
The cult tale of how Marty McFly (Michael J. Fox) flew back through time became 1985's top-grossing film. Ronald Reagan, then US President, even quoted the movie when making speeches.
Today sees the day our time-travelling heroes arrived at a date in the "distant future" - 21st October 2015 - in the second movie of the trilogy.
And in the not too distant future, a Back To The Future musical will launch in Los Angeles.
Other 1980s film car classics
Ford Falcon XB Coupe (Mad Max, 1980): The ultimate stressbuster. Busy day at the office? Simply clear the queues of traffic with this post-apocalyptic, reinforced hulk.
Lamborghini Countach (Cannonball Run, 1981): This beauty competed with star Burt Reynolds for top billing from the moment the movie's opening sequence started to roll.
Ferrari 308 GTS (National Lampoon's Vacation, 1983): Christie Brinkley was the lucky woman who sampled the charms of this chic, souped-up classic.
Buick Roadmaster (Rain Man, 1988): This curvy 1949 model not only impressed stars Dustin Hoffman and driver Tom Cruise. One lucky bidder scooped the Buick at a 2012 auction for $170,500, or around £111,000.