Barn Find of the Month - Volvo Amazon Estate
Our January 'Barn Find of the Month' is by James who shares with us his story of finding his Volvo and preparing it for restoration.
"I have always liked the look of American station wagons, strange choice for a 25 year old but being able to throw in the bikes, surfboards and dog is essential, so something like a 67 Ford Galaxie would be ideal. But I'm not sure I would feel comfortable driving one of these in the UK. So the first time a saw an Amazon Estate, I loved it! The proportions where spot on, I love the big bumpers grill and bulbous bonnet and wings. The interior with the thin rim steering wheel and horn ring, ribbon speedo and minimal use of plastic just confirmed I was born in the wrong generation, and it was a Volvo need I say more...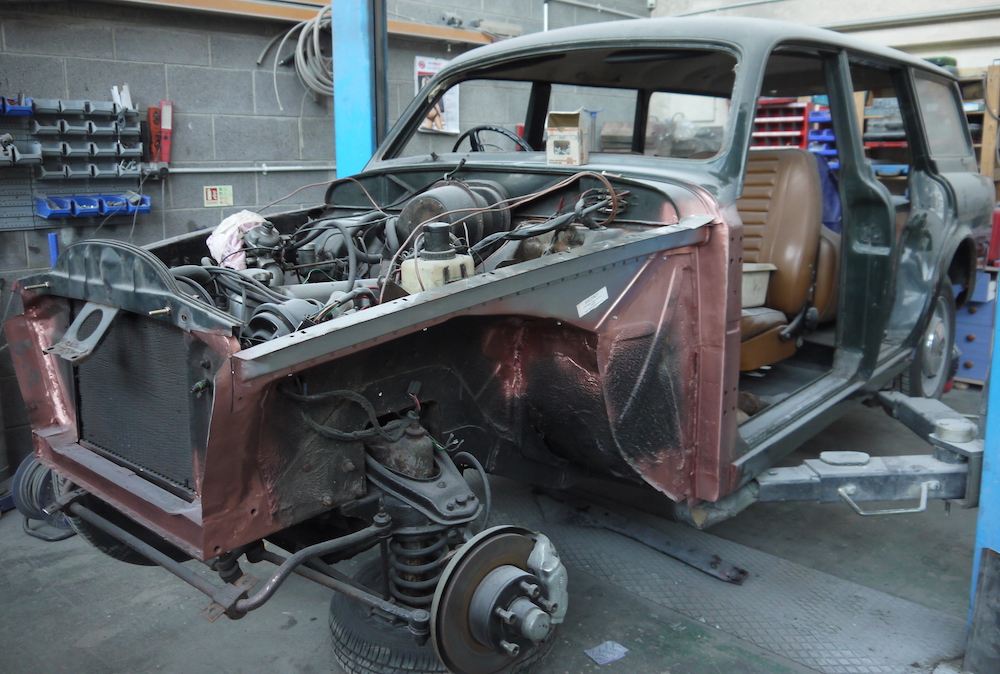 But I lost hope after a while as prices were reaching money I couldn't justify. Then one day on a long drive with a buddy, we decided to get a car together, nothing serious, budget of £1000 for something we wouldn't feel guilty about if we decided to add some personal touches.
After a few months of trawling we had found a candidate, a Lada Riva 1300. However, I had also found the Volvo but it was over budget.
My buddy was just about the leave to go on holiday so he left me in charge of the final sale. In the end I had to confess and say "This Volvo is at an unbelievable price, ill fund it and we can work on it together".
The next weekend my girl friend and I went to view the car, she is normally the voice of reason - Reason went out the window and I bought the car, the car also came with ducklings (this may of persuaded the girlfriend).
I'm not normally the type who loses sleep over appearances; I'm more interested in the mechanical side, but after a few days of looking at the car, I knew I really justified a full body restoration.
Earlier in the year I had bought a VW T25. The plan was to make this into a camper van and learn some basic body work skills on the way. Unfortunately house renovations got in the way of plans. So instead I asked around to find a good body shop to restore the Volvo. Some friends at work pointed me in the direction of KJAutospray in Anglesey, they normally prepare body shells for rallying but they are also very passionate about classic cars and agreed to complete the body work restoration.
So far the front end has come off, been shot blasted and primed, new front inner wings and repairs made to the A posts, and cowl.
We had a surprise at the rear of the car when we discovered a lot of rot that needed cutting out under the boot floor, this has now been taken care of. Next will be door frames and skins.
The car had been repainted in BL British racing green, so it will be striped back and retired to its original green. I'm not sure what to do when I get the can back; do I keep it original or chase that station wagon dream with a V8? Think I'll drive it around for a while and make that decision another time. In the mean time I have already sent my buddy to work to build an 18ft x18ft car port.
Trying to determine the value is tough. These don't come up for sale very often. Sometimes they come up for £15,000 fully restored but I don't think they're selling. I think £10,000 - 12,000 is more realistic for a solid car. As long as my spend stays south of this figure for the build I'll be OK. Looking back 10 years (yes I have a collection of old car magazines) at values think the value should stay or even increase with inflation".
Written by proud owner James
Send an email to news.views@footmanjames.co.uk for a chance to feature in our 'Barn Find of the Month'.