09 February, 2017
Time for a game of 'Guess the Car'.
• It's got a top speed of 140 mph…
• Hits 121mph in 9.86 seconds…
• Has 800bhp...
• And 1,200lb/ft. of torque…
Now, be honest, who guessed a 1974 Enfield 8000?
Hard to believe, we know, but this isn't a normal Enfield – this is a record-breaking, electric, road legal Enfield.
And now, you can see it at Beaulieu, National Motor museum.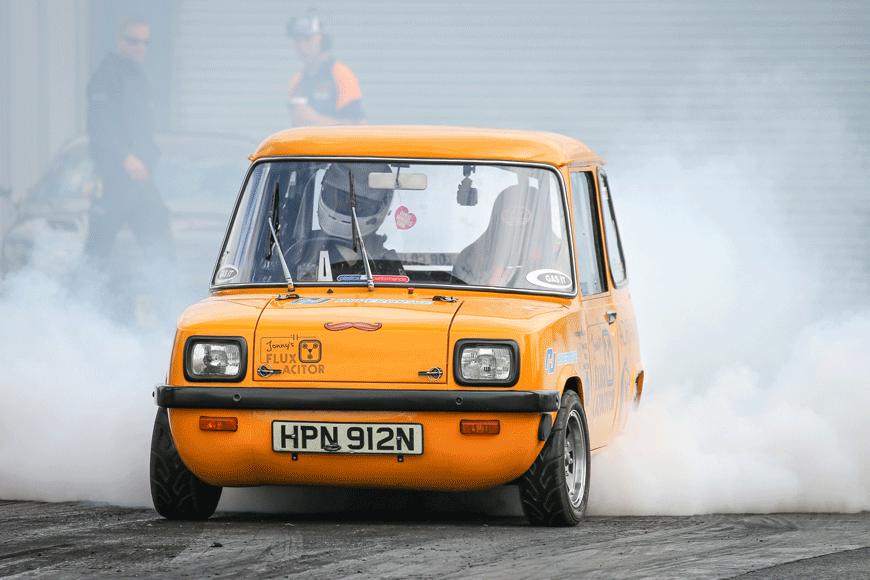 Changing perceptions
Jonny Smith, from Channel 5's 'Fifth Gear' is the proud owner of the yellow record breaker. He wanted to change perceptions of electric vehicles and show that they can be performance machines.
He took an original Enfield, and removed its 6kW, 150 amp electric motor, because he was never going to break records with 8bhp and a 40mph max speed.
The Enfield's original motor was replaced with a pair of 2,000 DC electric motors. Meanwhile 188 Lithium-ion cells, straight from a military helicopter, give the car power and boost its original top speed by more than 100mph, to a new top speed of 140mph.
A modern record breaker
In July 2016 the 'Flux Capacitor', as it is brilliantly called by its owner, set a world speed record by reaching 121mph in 9.86 seconds at the Santa Pod Raceway drag strip in Northamptonshire.
Not bad for a car that used to struggle to hit 40pmh!
And despite this record-breaking speed and futuristic power, the car is still road legal.
The car comes home
The electric record breaker is now going on display at the Beaulieu Museum, which means the car is (kind of) coming home.
The original Enfield 8000 was built in Cowes, on the Isle of Wight, not too far from Beaulieu itself.
So, head to Beaulieu and enjoy the homecoming of this modern take on a classic while you can.
Get your tickets for the museum on their website.