15 July, 2016
After months of preparation the awaited Chateau Impney Hill Climb finally took place on Saturday 9 – Sunday 10 July. For Footman James all the action started Thursday 7th July setting up the two areas being sponsored this year; The Drivers Club and the Concours d'Elegance.
Saturday saw the day start off with rainy showers but by 9:00 when the crowds were arriving, it had cleared up and a little warmer.
On entering, the crowds were greeted by the smell of methanol burning and an array of small tents and food stands selling a wide range of products. In all the commotion was a 'street' painter capturing all the surroundings as crowds passed by.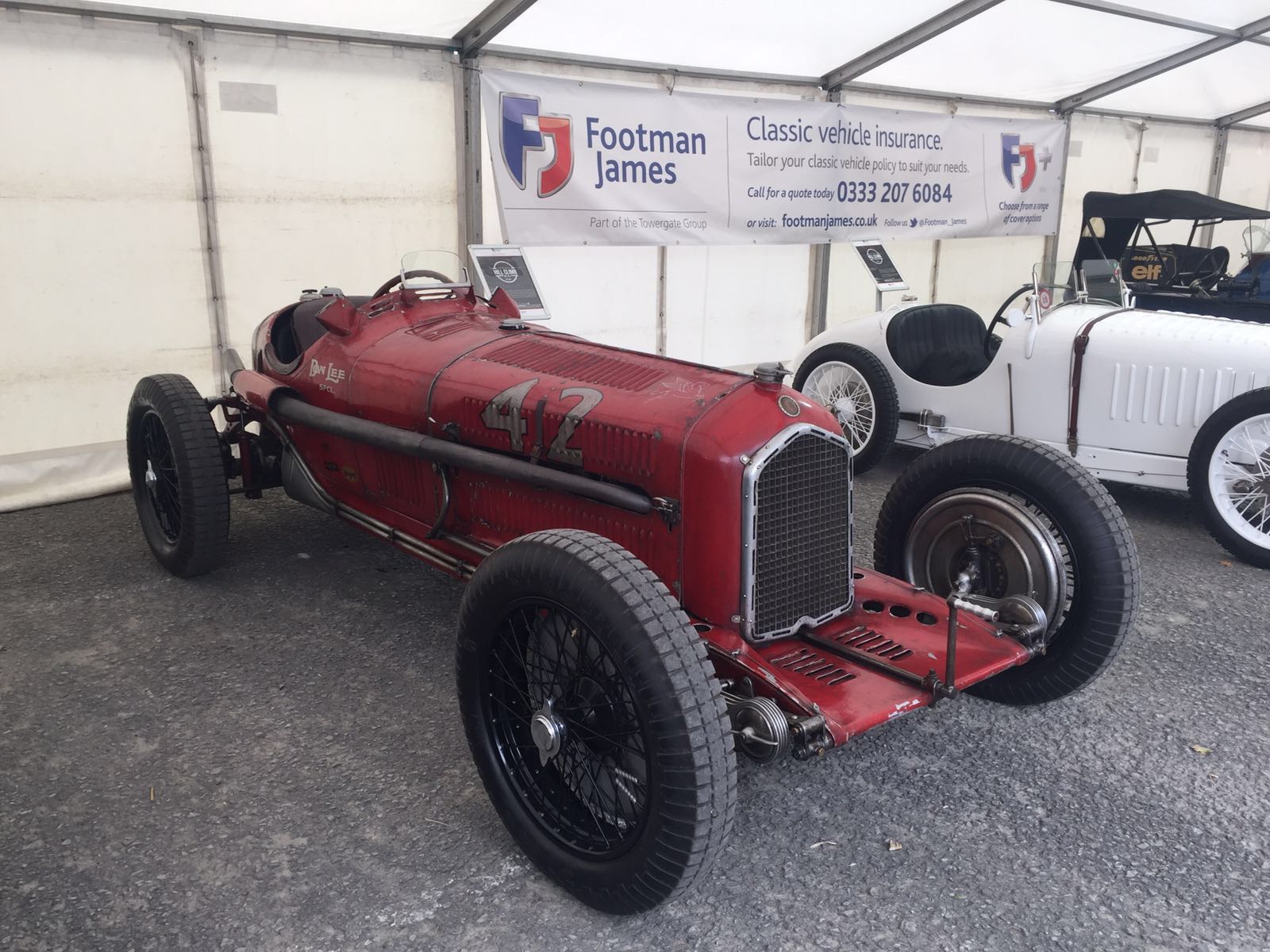 Further down from the entrance was a large spectator stand overlooking the finishing line and large screens projecting all the action. Entering the start-up area, the smell of petrol basked in the air as beautiful classics made their way up to the area. So many roaring engines echoed across the grounds; from the 'popping' of the Beast of Turin car to the 'whine' of the supercharged V8 race cars!
Unfortunately around 11am an accident took place by the roundabout when a Bugatti rolled over, but the ambulance ensured the driver's safety as practice racing came to a halt.
Over the grounds were club stands near the vintage fair where FJ caught up with a few of our friends; the Porsche GB club and Lambretta Club GB who seemed to be having a great day.
Next stop was the H&H auction marquee which was set up with beautiful cars on display including a 1972 Datsun 240Z, 1926 Dodge, and VW camper Vans.
Safe to say the weekend exceeded expectations with beautiful classics, thrilling hill climb races, good street food and a great atmosphere.
Our highlights from the weekend:
• Over 450 visitors casted their vote for their favourite classic car from the stunning Footman James Concours d'Elegance line up.

• We caught sight of the oldest Sunbeam, the 1911 Sunbeam 16/20 in the world which was locally built in Wolverhampton - It is quite the looker.

• Holly Mason took the lead as she was first on the track in a 1934 Aston Martin Ulster for the first time at the hill climb. Great seeing so many female enthusiasts take to the track this year.

• Anticipated 'Whistling Billy' the 1905 steam racer drew in the crowds even with a slow time of 92.07 seconds on its first run.

• Ivan Dutton brought the rare 1936 Skirrow Dirt Track Car to the hill climb because "nobody would even have seen one since the 1950's" says Ivan. What a beautiful surprise!