britains best classic cafe round up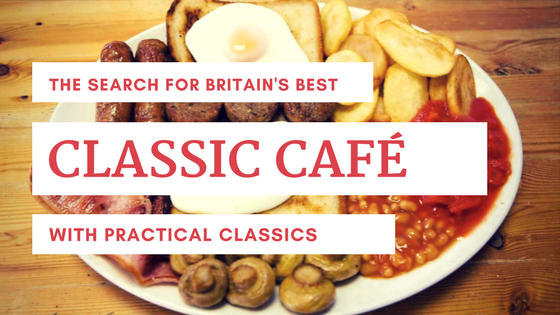 Our 1600-mile round road trip with Practical Classics has come to an end.
8 days. 12 roadside cafés. Countless breakfasts consumed.
If you didn't get a chance to join us along the way, don't worry – sit back, relax and read our roundup of the whole event.
Friday 5th May: Ace Café, London & Garwick Café, Lincs                    
Our first stop on the tour was to Stonebridge in North-West London, to sample the delights of an iconic venue within motorcycle culture: The Ace Café. The design and décor of the Ace Café is immediately noticeable - white signage on a black background, chequered flags and usually flanked by classic cars and motorcycles alike. We were joined by some great vehicles, including a Triumph Dolomite Sprint and a Morris Minor Traveler.
The team headed north up the A1 from London, aiming to arrive at the Garwick Café in Lincolnshire for 1pm. There was another brilliant turnout of classics and enthusiasts to join us for lunch, including some unusual vehicles such as the Sunbeam Vogue, Suffolk Jaguar SS100 Replica and MG 1300. The team then continued heading north for an overnight stop in Alnwick.
Saturday 6th May: Ballinluig Moto Grill, Perthshire & Hartside Café, Alston
The Scottish leg of our tour had officially begun and we were dazzled by yet another impressive showcase of classic cars at the Ballinluig Motor Grill in Perthshire. Ideally situated just off of the A9 it was a perfect place to rest before descending back down south to the remote Hartside Café.
The Hartside Café is popular with motorcyclists and classic car clubs equally; despite being hidden in the Pennines. Though the café might be tucked away, our arrival was no secret – we were greeted by over 100 classic cars and their owners! We enjoyed our afternoon lunch in the café which was blessed with great panoramic views – as the café is located within the summit ridge and the weather was clear, we were able to stare out at the nearby Lake District.
Sunday 7th May: Oil Can Café, Holmfirth
After an idyllic convoy through the Lake District it was time to head to our next destination – the Oil Can Café in Holmfirth. Established in October 2012 it is situated within The Carding Shed – originally built as a woolen mill which has been adapted into a multi-venue, enabling visitors to view classic and vintage cars, clothing and (perhaps most importantly for us) a place to rest and eat.
Monday 8th May: Yondermann Café, Buxton & Super Sausage Café, Northampton
We arrived early on Monday morning at the Yondermann Café, rolling into the Buxton area around 9. Another great café which is popular with bikers, the Yondermann is set in the heart of the Peak District and we were again joined by an incredible display of classics on the large car park, including a Jaguar XK150, Jowett Javelin and Triumphs. After enjoying our breakfast, it was time to wind our way toward Northampton, to visit the Super Sausage Café.
The Super Sausage Café is a classic café hailed as being one of the oldest in Northamptonshire. Situated on the A5 in Potterspury, just outside Towcester, it is only 10 minutes away from the iconic Silverstone circuit. The huge car park often hosts car and bike meets and we were thrilled to be greeted by another excellent turnout.
Tuesday 9th May: Body & Soul Autoworks Café, Cardiff
Our convoy of classics began the journey to Cardiff via Monmouth, but not before a short stop off at Cardiff Gate Services around 11am to reconvene with other classic car enthusiasts. It is clear that those that who work at Body & Soul Autoworks live and breathe car culture – the Autoworks is also a hub of repairs and restorations. Whilst we relished the breakfast and retro-diner feel of Body & Soul, it was soon time to move on from South Wales and begin our Cornish adventure.
Wednesday 10th May: Smokey Joe's Café, Redruth & Haldon Forest Diner, Exeter
Smokey Joe's Café is popular among the locals, with a traditional mix of Cornish/English food available. Arriving mid-afternoon, we were once again greeted by a plethora of classics, this time including – a Wartburg, Trabi and Chevrolet. After enjoying some homemade food and fixing the aforementioned Wartburg, we were back on the road heading East toward Exeter for our last stop of the day – The Haldon Forest Diner.
Situated next to the A38, The Haldon Forest Diner is situated at the top of Haldon Hill and features another large car parking area. Popular with both locals and those travelling by, we weren't disappointed with our all-day breakfast! After eating it was on to replenish fuel – our jaunt in Devon was over and it was time to rest before visiting our penultimate café on the tour!
Thursday 11th May: Railway Carriage Café, Lopenhead
Perhaps one of the most unusual cafés on our tour has to be the Railway Carriage Café, a carriage which was lovingly restored in 2006 and is able to seat around 22 people at a time. The railway carriage itself was constructed in 1887-90 at The Stratford Locomotive and Carriage Works in London – originally to be used on the Great Eastern Lines out of London Liverpool Street. Now the carriage serves hot & cold lunch, beverages and even some delicious cakes!
Friday 12th May: Bashley Manor Tearooms, Hampshire
Set in the courtyard of one of our partners, the Sammy Miller Motorcycle Museum, Bashley Manor Tearooms. There was a fine final display from fellow enthusiasts including yet more Triumphs, an impressive Singer Hunter and a Ford Capri GT. The homemade cakes and desserts looked brilliant, but we had to try and ignore them in favour of the large breakfast. Not to mention the vintage style cream teas served on china! A visit to Bashley Manor leaves you spoiled for choice – aside from the great array of food on offer there is also the brilliant distraction of the museum itself, well worth spending a day viewing the iconic bikes on display.
The winner of Britain's Best Classic Café will be announced on Monday 22nd May.