Britain's Best Classic Car Named
 What's the best car Britain has ever produced? It's a debate usually designed to leave classic car connoisseurs arguing into their beer all night.
But the question was finally answered at the first-ever Classic & Sports Car - The London Show.
The three-day festival revealed the winning motor on Friday October 30. Visitors were treated to examples of each of the 10 finalists on show at the exhibition in Alexandra Palace.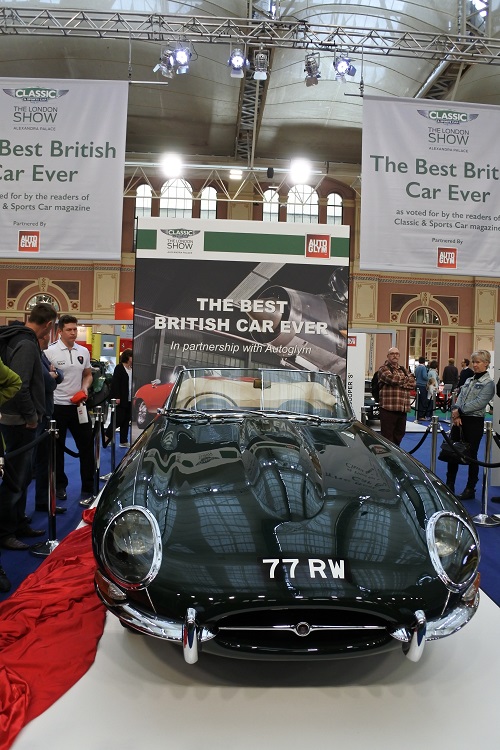 And the winner is...
Step forward the iconic Jaguar E-Type. It beat off beauties such as the Lotus Seven, Bentley Speed Six, McLaren F1 and Mini Cooper S.
The seductive winner appeared in the flesh in the form of the 77RW. It is the world's longest-surviving E-Type.
The model on show was the one driven by Jag test driver Norman Dewis to Geneva from Coventry on its debut outing in 1961.
James Elliott, editor of Classic & Sports Car magazine, said the E-Type is the complete car, with traffic-stopping looks and an enduring driving experience.
About the competition
Other candidates included the:
The original Range Rover
Rolls-Royce Silver Ghost
Ford GT40
Jaguar XKSS
Austin Seven
The 100-strong judging panel featured star names such as:
Gordon Murray: McLaren F1 designer
Mark Knopfler: Dire Straits star and petrol-head
Simon Taylor: motor racing commentator and writer
Other show highlights
These Best of British top 10 gems were among more than 300 classics that graced the show. Other head-turners that wowed audiences included the:
Porsche 993 Carrera RS
Ferrari 250 GT California Spyder
Mercedes-Benz 300SL "Gullwing"
Pontiac Trans-Am (1973)
Awesome Aston
Aston Martin were prime movers among the manufacturers jostling for centre stage. Aston's DB4GT left visitors swooning. But pride of place went to a 94-year-old A3, the company's oldest model in existence.
The venerable 1486cc monobloc-engine-powered treasure has recently benefited from a three-year makeover. Aston also flaunted some of its more recent models, as well as showing off its links with the James Bond film franchise.
Best of the rest
A first-edition Lotus Elite
A selection of Rolls-Royce motors, including Silver Clouds from the 1960s and Wraiths from before the war
Sublime Bentleys
A cornucopia of classic car sellers