A Tribute to Captain Sir Tom Moore
Sometimes heroes are found in the most unlikely places, and Britain's first lockdown against the coronavirus pandemic discovered Captain Sir Tom Moore.
In April 2020 the then 99-year-old veteran accepted a small family challenge to raise £1000 for health charities by walking 100 lengths of his garden before his 100th birthday at the end of that month.
"One small soul like me won't make much difference." Tom Moore declared in his first TV interview. He couldn't have been more wrong.
By the time his fundraising page closed on his 100th birthday, Captain Sir Tom Moore had raised more than £32m from more than one-and-a-half million global donors.
A love for motorbikes
Although Captain Sir Tom Moore is well known for his outstanding charity work raising millions for the NHS. However, many won't know that he had a long-standing love for classic motorcycles and once owned a Scott Flying Squirrel, currently on long-term loan to the Bradford Industrial Museum in Eccleshill.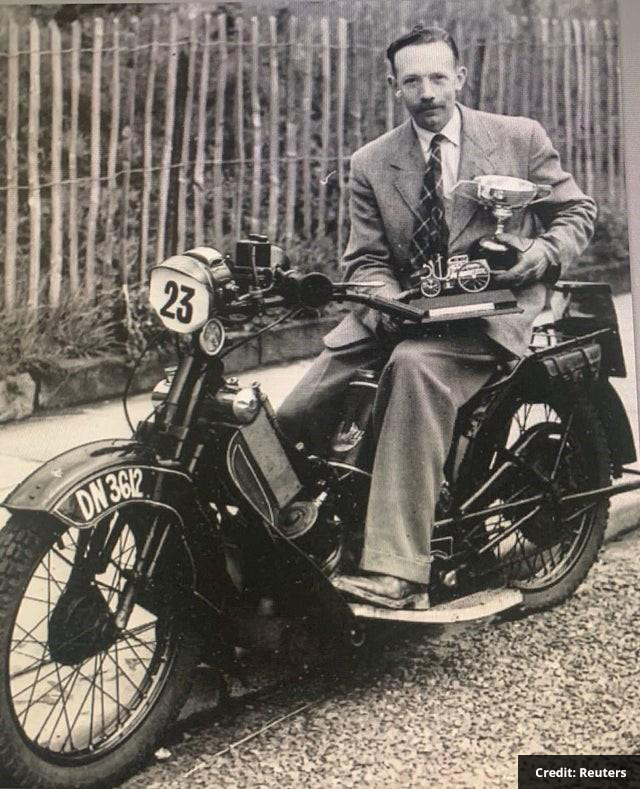 The motorcycle still bears the registration number DN3612 and is thought to have been owned by Tom in the 1950s.
His love motorbikes started at the young age of 12 when Captain Sir Tom discovered one lying in a barn and brought it for half a crown. He took his new bike home and restored it.
He left school to start an apprenticeship in civil engineering, but there was barely time to finish it before World War Two broke out.
Conscripted into the British army in June 1940, Captain Sir Tom joined the Duke of Wellington's regiment - an infantry battalion with historic links to the West Riding.
While in the army Captain Sir Tom spent time in Cornwall, preparing to defend the coast from a German invasion where he learned how to drive tanks.
He was then selected for officer training, he became a second lieutenant on his 21st birthday, and - now part of the 146th Royal Armoured Corps - found himself posted to India.
With his knowledge of motorbikes, Captain Sir Tom was asked to train dispatch riders. Radio transmissions could be intercepted, so this was the best means of getting information to and from the front line.
It was dangerous work, and dispatch riders worked alone and at night. The roads that did exist were deeply rutted, thick with mud, and the risk of an ambush was ever-present.
Even though Captain Sir Tom loved the motorbikes, he described the job as a "poisoned chalice". Once the engine started, there was no stopping or going back.
Captain Sir Tom had survived a nasty bout of dengue fever and been promoted to Captain. With the Japanese finally on the back foot, he returned to England to train recruits in the art of driving tanks.
On VE Day, there were "certain activities in the bar", but Captain Sir Tom's thoughts were with his mates still fighting in the Far East. "They didn't get a day off," he said.
He stayed in the army for another 15 years, as an instructor at the Armoured Fighting Vehicle School in Dorset.
Moore left the military in 1960 and took a job as a sales manager in Yorkshire, and in 1967 his 18-year marriage ended. He later married Pamela and had two children - Lucy and Hannah.
Captain Sir Tom raced his beloved Scott motorbikes around Yorkshire, winning various cups and medals.
A courageous knight
Captain Sir Tom covered the song; You'll Never Walk Alone, with Michael Ball, and raised even more - hitting the top of the charts in time for Captain Sir Tom's hundredth birthday and making him the oldest person ever to score a number one single in the UK. He did not set out to inspire millions; he was trying to do his bit. The Queen knighted him at a special ceremony at Windsor Castle on 17 July 2020.
Captain Sir Tom Moore lived a life so full and left so many lives touched with his courage. Rest in Peace Captain Sir Tom Moore.