05 July, 2017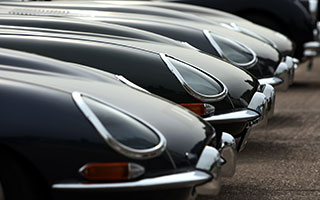 Carl Froch MBE is one of Britain's most successful boxers in recent years, with three World Super-Middleweight Champion titles to his name. But now, he's taking off the boxing gloves and picking up the driving gloves instead.

After recently completing his ARDS test at Donington Park's Motorsports School, the boxing great is busy training for his first ever motorsport race at the Silverstone Classic on July 29.

The all-star cast
Froch is one of the many famous faces taking part in the Celebrity Challenge Trophy Race; a special event bringing 10 teams of celebs onto one mega grid of Austin A30 and A35s.

Each celebrity team will have its own mentor from the world of professional motorsport, showing the celebrity drivers the best way to get around the legendary track.

From one sport to another
Froch isn't the only competitive sportsperson taking part. Other sporting celebrities already announced include:
Jason Kenny CBE
Amy Williams MBE
Jonny Searle MBE
Mark Hunter MBE
Sportspeople are always competitive. So, is Froch going to be taking this seriously? You'd better believe it.

He said: "I suppose I am competitive in life and want to win. I have loads of trophies packed away, as I only care about the ones for winning. I am going there hoping to win, I will try. But in racing you can beat someone, and there are three on the podium. In boxing if you don't win you are the loser."

But, as well as wanting to win, Froch is just as excited to get the adrenaline rush that comes from motorsport. "It can give me the same adrenalin rush as going into a boxing ring, I get it when I play tennis, golf and poker too as I am now a party poker pro."

You can find out more about the Celebrity Challenge Trophy Race by visiting the Silverstone Classic website.