02 July, 2015
One of Britain's most iconic classic car motorsport dates has returned to the calendar, bigger and better than ever - nearly half a century since it was last staged.
The spectacular Chateau Impney Hill Climb comeback left nearly 10,000 spectators scratching their heads wondering: "Why did we ever let this fade away?"
But thanks to the vision of the hotels owners along with key sponsors such as Footman James classic car insurance, return it did, after a 48-year absence.
The event, which previously ran from 1957 to 1967, rewarded supporters faith with some first-class entertainment. 
Choice competitors
Droitwich Spa's Chateau Impney and Exhibition Centre's grounds in Worcestershire rolled back the years last week, with more than 200 motors dating back to before 1967 taking on the challenge.

Head-turning racers included:
- the Fiat "Beast of Turin" S76
- 10 English Racing Automobiles (ERA) - more than half of the world's surviving population
- magnificent Maseratis
- jazzy Jags
- awesome Allards
- Alfa-Romeo's Monaco-winning P3 Tipo B
- Bugatti Type 35s from the pre-war Grand Prix circuit
The wonder of Woodhouse
Local boy Jack Woodhouse wasn't even born the last time the event was staged.
But the hill-climbing newcomer set the event's fastest lap time on Impney's new 1,000-yard course. This is 450 yards further than the old original twisting circuit.
Banbury-based Woodhouse stormed round in his Lotus 20/22 in just 42.42 seconds in the maximum 1500cc class racing car (pre-1961) category.
He called the win "pretty special", particularly as he was reared only miles from the venue. What added to the kudos is that he beat off the challenge of father Mark, a competitor during the event's early days.
Mark, a formula multi-title winning junior champion, was not to be totally outdone, however. Dad won the section for racing cars with a maximum 1500cc capacity from the pre-1961 era, expertly taking his Elva 100 around in 45.71 seconds.
Best of the rest
James Baxter (ERA R4D): scooped the quickest pre-1940 car prize as well as the day's quickest ERA time, after a lap of 44.03 seconds
Pete Bottrill (Lotus Elan S3): won the fastest sports car prize for post-war pre-1967 models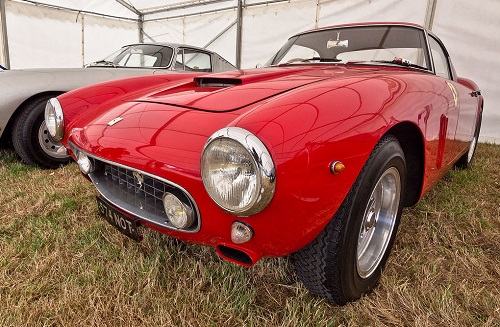 Concours d 'Elegance
A special 1953-built Ferrari 250 scooped the weekend's Concours d 'Elegance. Social media users voted the stunning MM GT top dog.
Many happy returns
Organisers have pledged to make the revitalised event a yearly happening following last weekend's (July 11-12) success.
Chateau Impney Hill Climb Club chairman Rod Spollon said officials were "taken aback" at the "enthusiasm and support" of spectators and racers alike.
Mr Spollon says the weekend gives them a foundation to build upon, to bring the Climb back even better and bigger in 2016.
Footman James director David Bond called it a true "spectacle" and is looking forward to more such enjoyable Chateau weekends in years to come.
Woodhouse junior has already said that he hopes to be invited back to defend his trophy. Watch this space...