24 October, 2017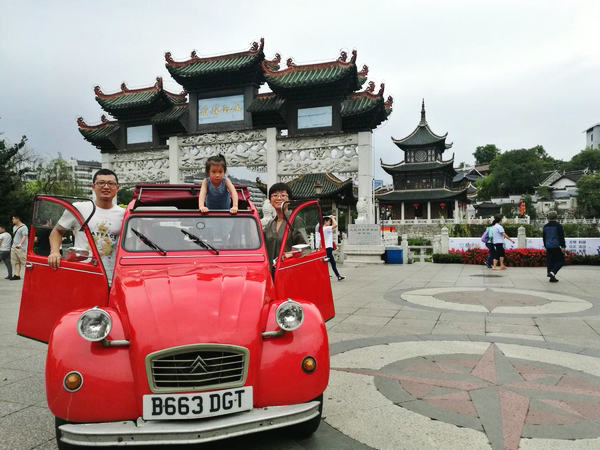 Luo Chang, Ding Jie and their daughter Luo Xiaoy
Credit: Luo Chang
---
A couple from China have completed a mammoth drive through an astonishing 19 countries – all in a 32-year-old classic Citroen 2CV.  

Luo Chang and his wife Ding Jie packed up their lives in Guiyang in southern China and drove the ancient Silk Road to London.

"Once we make a decision we don't get overtaken by fear. Going full steam ahead is our style. Our parents, relatives and friends are familiar with that and support our decisions," Ding told news website China Daily.

Hazardous landscapes

It took two months to get to London, passing through treacherous terrains at high altitudes and driving through Iran, Turkey and Western Europe.

"Iranians were hospitable," regaled Ding. "They even shared CDs with us in traffic jams so we could enjoy Persian music."

Turkey's heartland proved particularly difficult for the pair, as they overcome a 1km-high plateau that is pierced by volcanic peaks.

Tourists generally tackle the peaks using hot air balloon, but the couple took on the challenge in their red 2CV.

On arriving in London, Luo started work and daughter Luo Xiaoya came along a couple of years later.

The journey home

Despite working for almost six years in Britain's capital, the pair decided to head home, with their four-year-old daughter in tow.

"We want to do something meaningful together before our girl goes to school," Luo added.

Travelling across the Eurasian land mass, the couple took extra time on the route back to make sure Luo Xiaoya had plenty of time to rest.

They also planned their accommodation carefully, taking care to stay with families with children along the way.

They arrived back in Guiyang on June 26, this year, after travelling through 19 countries.

But despite being home just a few short months, the family has already started preparing for their next trip.

Shipping the Citroen to North America, the family will look to commence a 10-month expedition across the Americas.