classic bike of the month 1967 garelli monza 50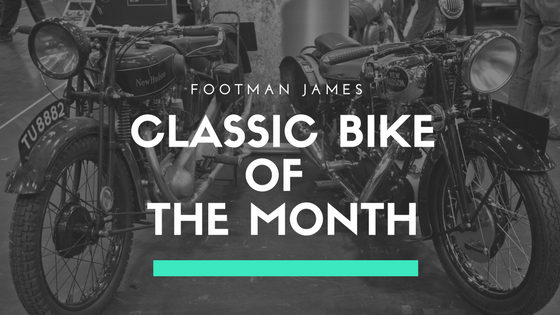 Welcome to our latest Classic Bike of the Month. Over the upcoming months you can expect to see a number of iconic classics that are recognised universally for their distinctive profiles and signature charms.
Hopefully you'll see some of your favourites, and maybe even come across a gem you hadn't heard of or noticed beforehand.
Our first story features a 1967 Garelli Monza 50, which was submitted to the series by Dave Oram.
---
My bike is a 1967 Garelli Monza 50. Back in the Sixties, Garelli made a series of what would later be termed 'Sports Mopeds'. However, back then they were not mopeds, but proper motorcycles, albeit tiny by today's standards!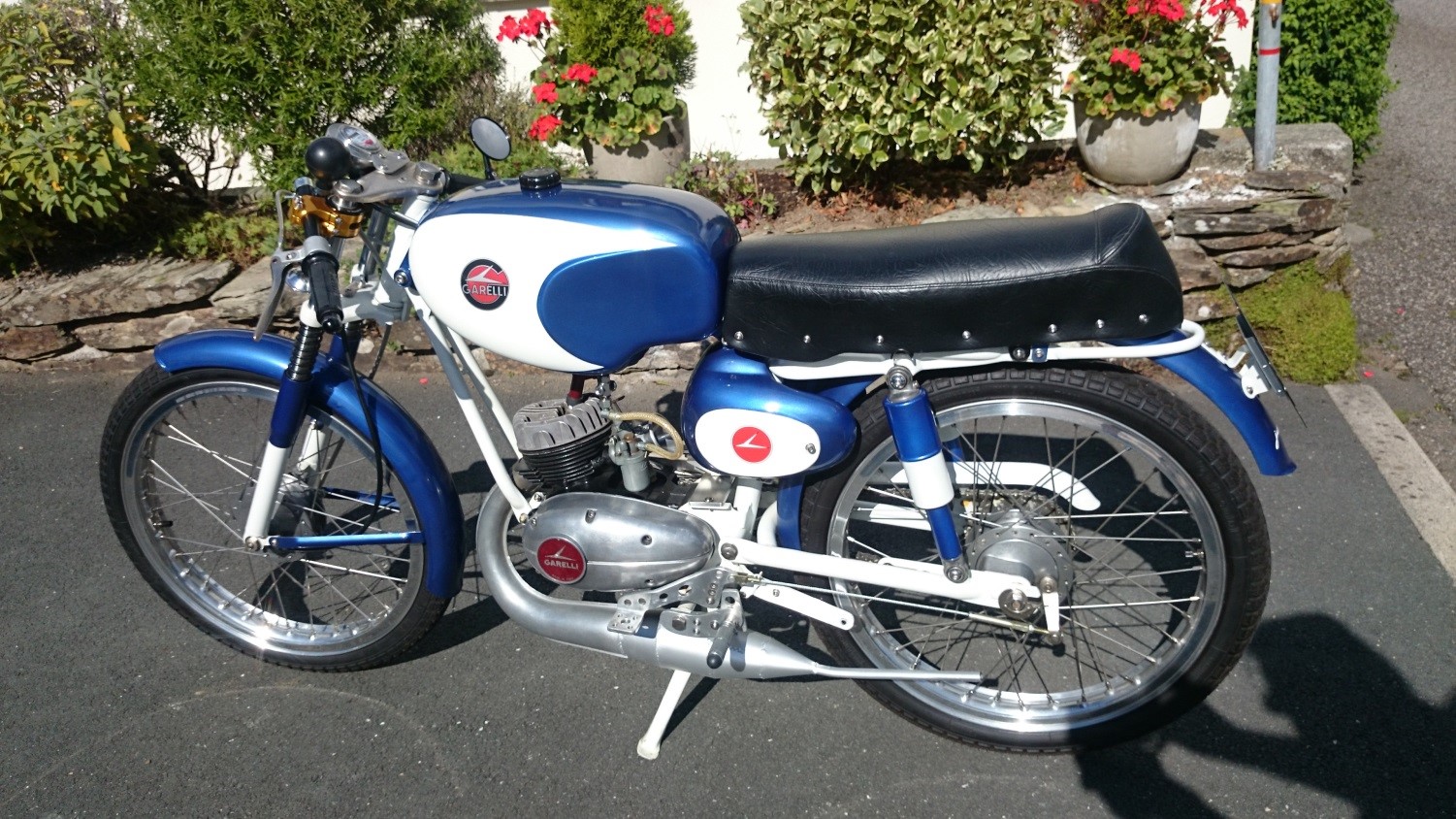 Back in 1975 I was given this bike by my brother in-law. He was only 17 at the time, and wasn't interested in restoring a 50cc basket case!
The build quality of these Italian bikes wasn't particularly good, which is probably why they are quite rare now. I suspect that there are only a handful in the UK.
When I was given the bike, the engine was a non-runner. The piston had been damaged by an errant little end needle roller, which must have been dropped into the crankcase at some point.
Fortunately, I obtained a new piston and rings at the time, and managed to get the engine running.
Miraculously, the bore had only one mark, which I managed to polish out.
I also managed to get the service book for the engine, which has subsequently been useful.
I stripped the bike completely, putting everything in boxes, and more or less forgot about it for the best part of 40 years!
In 2010, I decided I ought to make a start on restoration, and over the next four years gradually rebuilt the bike. When I looked at all the bits, I realised there was no headlamp assembly, and more importantly, no number plate.
Neither I nor my brother in-law can remember just what happened to these – or whether they were ever attached. The bike had obviously been used as a field bike, before he was given it by one of his mates at the time.
So, I decided that the initial rebuild would be without lights, and simply get a 'daylight' MOT when it was complete. I do have the headlamp brackets, so future fitting shouldn't be a problem.
As with these projects, I'm pretty sure I've spent more than the bike will ever be worth, but once started a point of no return is quickly reached.
Still, I have done all the work myself, apart from the new stanchions, and the wheel building, so it could have been worse.
In particular, the fork stanchions were so badly pitted, they could not be plated and re-ground to size. At that point I decided to have a pair made from scratch, and so that point of no return was reached.
On the subject of plating, I bought a nickel plating kit, which I've used for all the bits and pieces which had lost their coating. Nuts and bolts, rear sprocket, control lever blades, engine levers and linkages have all been nickel plated, and look pretty good.
As well as the forks, one or two other items were beyond renovation also, in particular, the original clip-ons were so corroded they would have been unsafe to use. I thoroughly cleaned them up, but the photos don't show just how bad they were. The controls were all OK and have come up like new.
Since most items are simply no longer available, I decided that my restoration would not be 'back to original'. I wasn't particularly concerned at this, and, for instance, have fitted modern clip-ons, and fitted modern foot pegs on my own alloy brackets.
As it happens, there are quite a few NOS engine parts still kicking around in the USA, and the interweb is a wonderful thing!
I managed to get NOS stator coils, and condenser, plus a speedo head, from "Genuine N.O.S." in California.
The wheels were rusted away, the spokes being no thicker than pushbike size to start with!
I removed the spokes and rims, and polished up the hubs, and had new alloy rims, and stainless spokes fitted by Hagon Wheels.
The seat had been torn at the rear end, and was in a pretty bad state anyway, so I stripped it down to the frame, which could then be re-painted. The under-lying rubber padding / former was OK, so I just had to make the new cover, using the dis-assembled old one as a pattern.
With the help from the Italian Motorcycle Owners Club, I have been able to get an age related registration, so the project is now complete.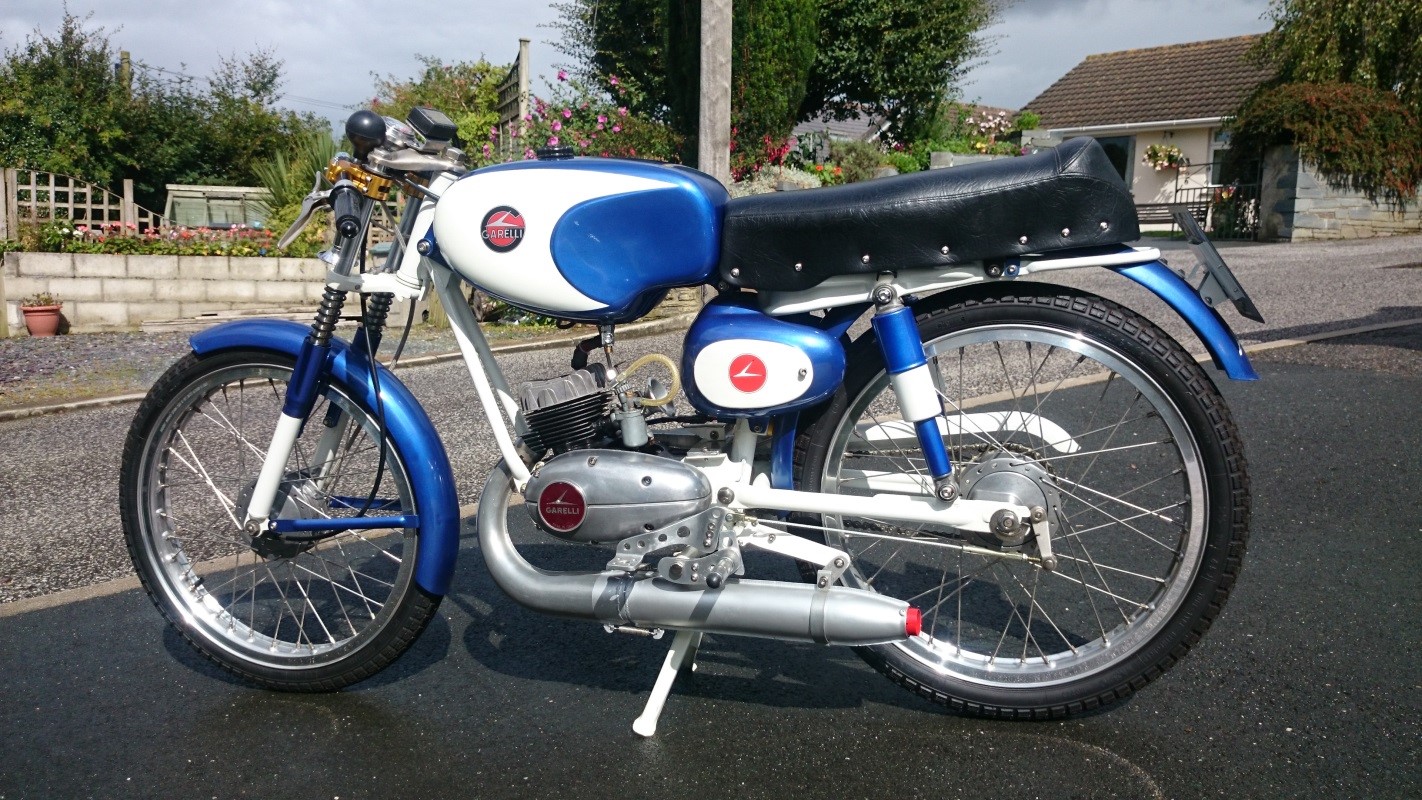 The engine starts easily enough, and idles OK, but on the road there was quite a bit of, what I would describe as, '4 stroking' under load, and it didn't like more than half throttle.
I renewed just about all the carb jets, (unfortunately the needle jet is no longer available), but there was still a problem. However, on a falling gradient, I've seen 50 mph, so it's not all bad.
My next move is to fit a modern ignition stator and rotor kit, but I suspect I might also have to bite the bullet, and rebuild the engine with new bearings and seals.
To make access to the silencer easier, I've made a joint at the end of the first tapered pipe section, so I can clean out the internals. I've opened up and thoroughly de-coked the internal baffle which turned out to be nearly blocked solid.
The last job I have had to do, has been to replace the generator side cover, which cracked right around the kick start bush. The metal was wafer thin at this point, and I was unable to repair using Lumiweld, so I've had to resort to making a fabricated alloy cover, which I'm quite pleased with.
I have been told there is someone down Redruth, who will make a new casting, using the old as a pattern, so there is hope that I could revert to original appearance if I feel inclined.
Since the bike was completed, I've had a nagging doubt about the original magneto. Even though I had been able to replace the ignition and alternator coils, plus condenser, with Genuine NOS items from the States, there remained the possibility that the rotor magnetism might have diminished with age. This might well account for the inability to run properly at above half throttle.
Whilst surfing the net for info and parts, I came across a German company, "Power Dynamo", who manufacture modern replacement magnetos for an impressively wide range of classic bikes.
Checking their application list showed a part for the Garelli, and the pictures seemed to show the same fitting for the stator and the magnetic rotor. After sending them a photo of my original parts for confirmation, I placed an order for the new one.
The Power Dynamo kit is fully modern, contactless, with a 12V 100W alternator output. Although I've currently no lights on my bike, the 12V system is a major plus point.
The kit was delivered as promised in about a fortnight, and is everything one could wish for. The quality is superb, and fitting was really easy, basically bolting straight in place of the original.
As can be seen, the kit is comprehensive, including a new coil unit, a regulator unit, and HT lead.
Even the wiring was the perfect length for connection to the coil in its correct position.
The system can be used with, or without a battery, which is very handy.
A beneficial feature is that the crankshaft woodruff key is not required or used, which makes the timing setup very flexible – the stator plate position is not critical, and with the piston at the correct timing position, the rotor is simply positioned to suit before tightening.
An afternoon's work completed both the fitting, and the wiring ready for the test run.
The proof I suppose is in the pudding, and I have not been disappointed. The bike now performs every bit as well as could be expected, with 50 mph available on the level.
My de-coked standard silencer works perfectly, and to be honest, it makes my efforts with expansion chambers, although interesting, a bit of a waste of time! They all worked OK to a degree, but with only a 2000rpm power band. You would need a 6 speed box to be able to make proper use of them, not the wide ratio 4 speed it's got!