Classic Bike of the Month: 1999 Yamaha YZF R7
16 August, 2017
Welcome to our latest Classic Bike of the Month. Over the upcoming months you can expect to see a number of iconic classics that are recognised universally for their distinctive profiles and signature charms.
Hopefully you'll see some of your favourites, and maybe even come across a gem you hadn't heard of or noticed beforehand.
Our August feature is a 1969 Yamaha YZF R7, which was submitted to the series by James.

The Yamaha YZF R7 or OW-02 was on my wish list from its birth in 1999.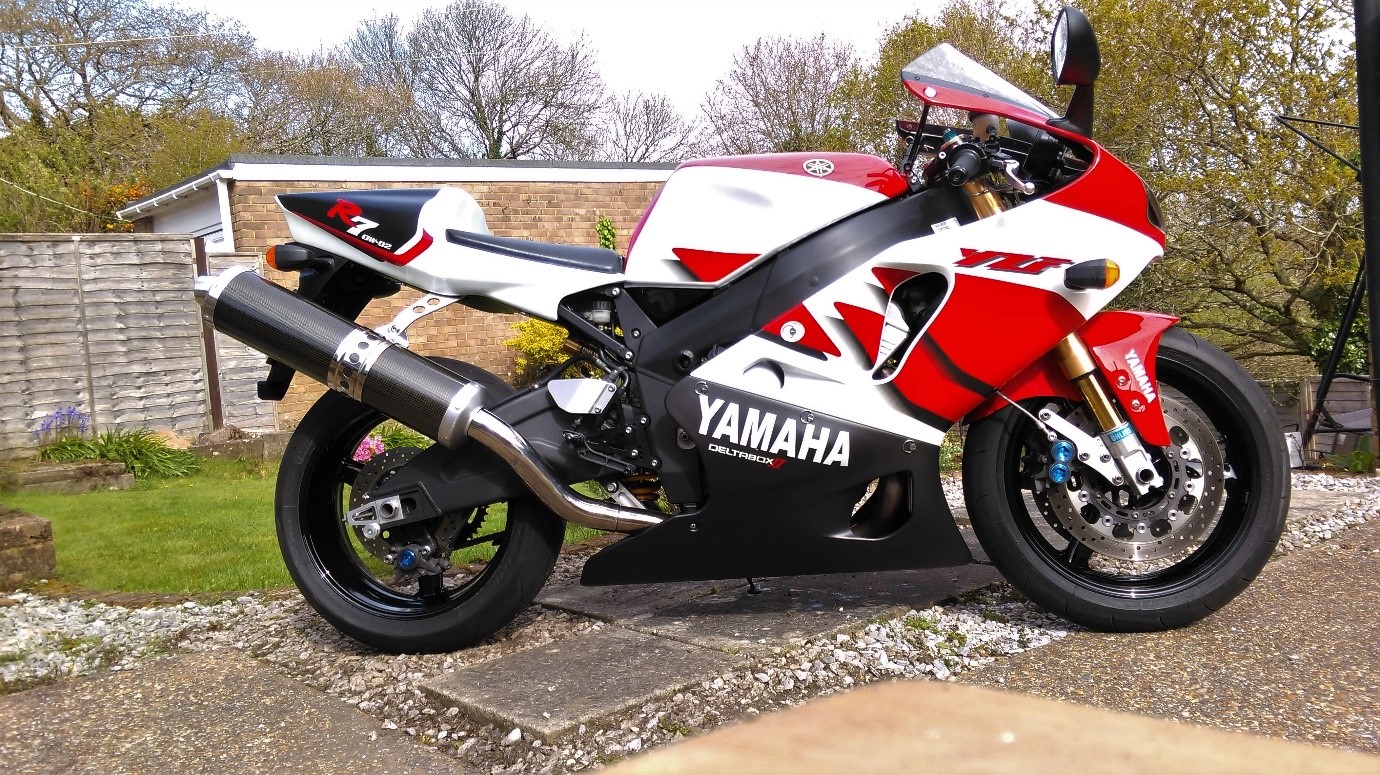 The bike was a purpose built homologation special. Its sole purpose was to compete in the World Superbike Championship and win with Nori Haga at the controls, which it would have done if not for an unintentional failed drugs test.
A purpose built shortened Deltabox frame based on the YZR 500 GP bike and Ohlins suspension let you know that this bike is special.
Inside the 750cc engine; forged aluminium short-skirt pistons run in an over-square bore with titanium conrods, titanium valves and a lightened crank. The early cranks could snap so Yamaha did a recall, early titanium valves were also soft and pulled through the ports (maybe something to consider if you are thinking of buying one).
This bike was ready to race out the box, but to get full race power of 160bhp, I think you have to throw £10,000 of YEC parts at it. However, one thing that really struck me was how light it is - Yamaha pulled no punches in producing this bike.
Though my passion had been the Yamaha R1, I now felt it was the time to find an R7.
This is not that easy, only 500 were produced, some ended up in the tyre wall, others do not have the correct engine (as many people fitted the R1 engine) and some, of course, are in race trim. After a two year search I found a suitable bike that was original - Yamaha confirmed the original engine is still fitted. It is important to find an original bike as you can no longer buy many of the parts.
The history of my bike is that it came from France. Only 33 came to the UK and because of this, they command a price of around £30k+ which I could not stretch to. Yet, an R7 is an R7, remember there are probably less than 500 in the world! A bit like my old R1 SP's I had only ever seen one before at the year of launch, the R7 is a bespoke work of art.
My bike is now ready to show, I fitted new headlights (genuine but like hens teeth), new screen, (after market as it is no longer available), new mirrors and the paintwork has been refreshed but the original graphics are still fitted (very important). The wheels have been refurbished while the bike was stripped for cleaning, not that it needed a lot - I believe it has never seen rain.
The R7 is a modern classic with the best pedigree, one of the best looking bikes ever produced and at its time of launch was the rarest production bike.
As above, if you are thinking of buying one....do your homework, look for damage, listen to the engine and make sure it comes with original parts, graphics, exhaust, fairings as you will NOT find them unless you know a man who has and if he has prices will be high, e.g. front fairing, £2500+!