Workshop Guide to headlights and lenses
(words and photos from VJMC editor, Steve Cooper)
Many of us are now struggling to find decent NOS parts. The once almost limitless stock is drying up and it's simply neither possible nor economically viable to unbolt old parts, launch them in the bin and bolt on 40-year-old, unmarked, replacements. Yes, pattern or aftermarket parts sometime offer a lifeline, but only if you're after high volume components. If you want replacement Yamaha Fizzy indicators there's almost a glut of replica alternatives, ditto for silencers and mudguards. Many marques ran the same indicators on a whole range of models so finding some pattern indicator lenses for the cursed Project Stinger shouldn't have been too hard. Sadly some of what was on offer was, frankly, pants! Poor fit was an obvious issue with the ones I found, the plastic started to crack when the mounting screws were tightened and one even shattered when given a final tweak! And don't even think of looking for aftermarket headlamp glass because no one does them. All of which leads you to rethink your game plan and, potentially, re-examine what you already have in front of you. Can you internally clean a supposedly semi-headlamp unit? Is it possible to rejuvenate dulled indicator lenses? How bad does a rear light lens need to be before it is genuinely scrap? We're about find out!
You don't have to be a rocket scientist to work out two basic facts. A – the reflector and the internal glass are dirty. B – the unit isn't designed to be taken apart.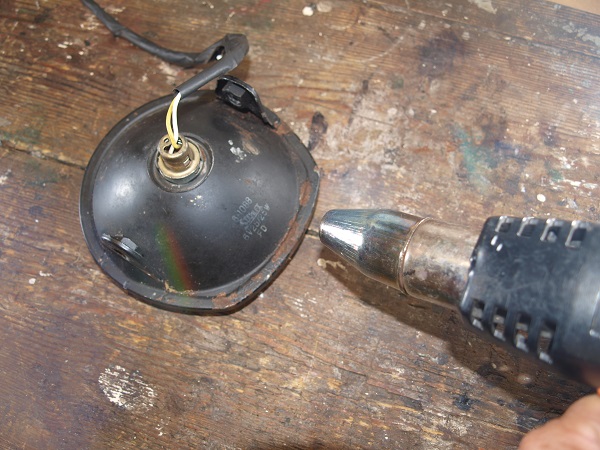 But where there's a will etc. Careful controlled heat applied around the entire periphery should get a result but don't be tempted to start levering or forcing anything or it could end in tears. Patience generally pays off and after five minutes the headlamp is reduced to its component parts. The inner rubber gasket needs to be treated with kid gloves as we'll not be finding another one any time soon!
This one's only just been caught in the nick of time. Condensation has eaten away at the lower edge of the silvering on the reflector. Much further and it would have been scrap. Blow any grit or dust off the reflector with an airline; don't try to rub it off or you'll cause scratching. A gentle clean with a lint free cloth, hand soap and water will remove most of the dirt. Grease, oil and finger prints can be lifted off with isopropanol which is readily available on eBay.
Any rust on the back of the unit should be gently removed and then treated with a non-corrosive, anti-rust preparation. A quick blast of satin black from a rattle can will restore the unit's cosmetic appearance. The rear light lens is particularly grubby courtesy of decades of two stroke smoke and road dirt. The indicator lenses are only a little better.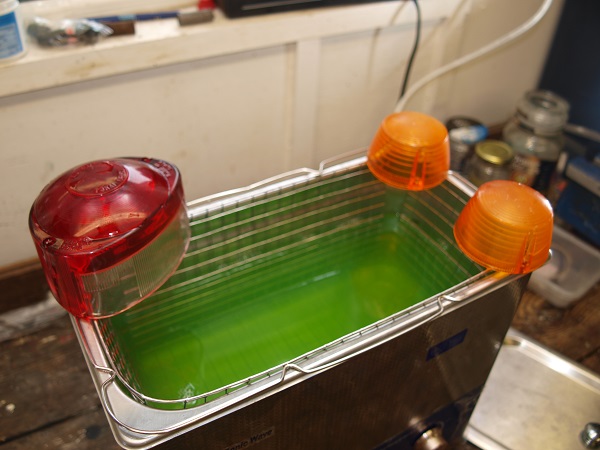 Now you could spend ages in the sink with detergent and an old tooth brush or if you're feeling brave maybe even chance them in the dishwasher. Alternatively immerse them for 15 minutes in an ultrasonic tank and watch the miraculous transformation.
Before and after; an amazing and swift transformation. The oxidised plastic responds well to Solvol Autochrome and with a second cutting back using Peek polish the original gloss is soon restored.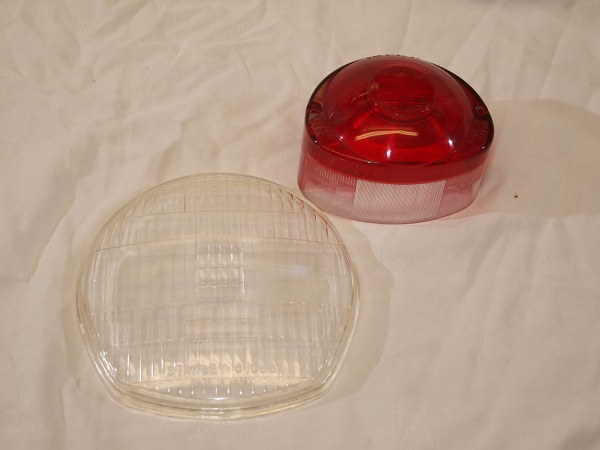 The glass headlamp lens just needed some warm soapy water and some domestic window cleaner spray. The rear light lens also benefited from the latter.
And there you have it in less than a dozen simple steps; a variety of lenses and a reflector bowl revitalised. Especially where originality counts there's no substitute for using the correct parts and if you're restoring a bike with a view to showing it, things like OEM indicator lenses might just be the final arbiter between a place and a highly commended. And even if showroom perfect bikes aren't your thing, just how good does it feel to know your bike has the correct parts on it? If the bike in question is a regular rider then by all means utilise pattern parts but unless the originals are beyond salvage what on earth is the point in throwing them away? As we've seen, it's a simple enough task to restore original parts and even better, it saves money that can be better used for the components you know can't be revived!
Alternative abrasives
The cleaning and polishing jobs undertaken here have been carried out using a range of branded products that just so happened to be on the shelves of the workshop but other materials can be equally useful. For example if a lens is really badly marked it's possible to remove the worst of the damage using successively finer grades of wet & dry paper. When the plastic is sufficiently smooth it's then possible to move onto materials such as the cutting compounds that are normally used on paintwork. From there any form of metal polish is fair game, once again working down in grades of abrasive until the plastic is smooth and shiny. Tooth pastes are also said to be good at taking out sun damage from plastics. Ditto domestic UPVC window frame cleaner/polish. A final wipe over with a soft rag and some hard surface spray polish should have your plastic lenses gleaming once more.
New lamps for old
If your headlight bowl is beyond redemption the first port of call is the parts books. Virtually every manufacturer used just a few headlight bowls over a wide range of models. As a rough rule of thumb if the basic dimension are the same chances are it will fit, simple as that. Even borrowing a similarly diseased reflector to your own from another model may very well open up more possibilities to you. For example a Yamaha RD200 reflector may be used on various trail and commuter bikes of the period…something else will normally fit. And if it doesn't then there's always the replating alternative. Google headlight re-silvering and check your options; it's not necessarily cheap but at least it's an option.
For more technical advice, visit Motorcycle Workshop Guides: The Complete List.
To find out more about a classic bike policy from Footman James and to get to an instant quote online, visit our Classic Bike Insurance page.

The information contained in this blog post is based on sources that we believe are reliable and should be understood as general information only. It is not intended to be taken as advice with respect to any specific or individual situation and cannot be relied upon as such.