03 March, 2015
Welcome to Classic Car of the Month, our brand new series. Over the months you can expect to see a number of iconic classics that are recognised globally for their distinctive profiles. You'll see some of your favourites, and maybe even come across a gem you hadn't heard of or noticed beforehand. This month we're looking at a car popular across the country both back in the day of its production, and even now amongst drivers with an interest in classics.
We are of course talking about the Morris Minor, known for its signature daylight openings, unitary construction and fuss-free panels. With a history tracing as far back as 1942, the Minor is a truly iconic vehicle. Many say it was the start of a new generation of small cars.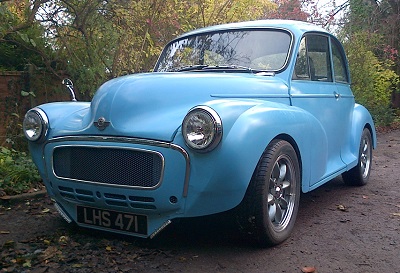 About the design
Designed under the leadership of the famous Alec Issigonis, the Minor began production in 1943 in experimental workshops in Cowley, where prototypes were made. The finished product hit the market in 1948, making its debut at the Earls Court Motor Show.
Alec Issigonis is also known for designing the classic Mini, which is another iconic vehicle, but we'll get onto that another day. Issigonis' design truly captured the hearts of enthusiasts everywhere. With innovative structuring, the Minor was known for its superior cornering and handling characteristics. Providing spacious interior and an eye-catching exterior, the Morris Minor sold in the hundreds and thousands. In fact, 1961 saw the millionth Minor completed which made it the first British car to have ever achieved such a figure.
What people thought then and what they think now
Early advertisements declared "the new Morris Minor makes the most of your petrol, goes farther on a tankful. Traditional Morris reliability and low maintenance are inherent in this modern design", which clearly captured the attention of many British drivers.
Although the Minor wasn't a fast car, reaching speeds of around just 62 mph, it did provide a relatively good driving experience for the time. Issigonis' concept was to combine luxury and convenience with an affordable price for the working class. It was originally available as a two door saloon and tourer, but the range expanded to include a four door saloon in 1950. It expanded once again, as a wooden-framed estate model (known as the Traveller) in 1952 and again in 1953 as panel van and pick up truck variants.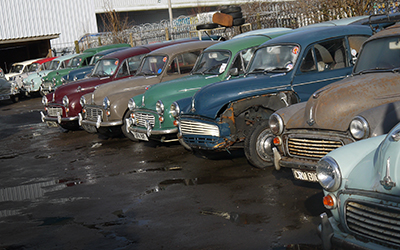 Overall, the Morris Minor was manufactured in three series:
- The MM (1948);
- Series II (1952) and
- The 1000 series (1956)
The classic Morris Minor still turns heads now. In fact, in recent news, a Mr Joe Dyrdal bought one for £17,000. What makes the story so interesting is that the car had been kept in pristine condition, locked up in a garage for 47 years. The previous owner had bought it for £656 in 1968, back when a gallon of petrol would have cost 30p.
Enthusiasts get together from time to time to celebrate the classics. There are even events specifically held in honour of the Morris Minor. For example the National Rally, which was a get-together hosted by the Morris Minor Owners Club in Northamptonshire in 2014.
Has there ever been another English machine to receive as much love and admiration? What do you think about the Morris Minor? Let us know know by tweeting us @Footman_James or leaving a comment on our Facebook page.