Classic Car of the Month - Golf Mk1 GTI
Welcome to Classic Car of the Month. Over the upcoming months you can expect to see a number of iconic classics that are recognised universally for their distinctive profiles and signature charms.
Hopefully you'll see some of your favourites, and maybe even come across a gem you hadn't heard of or noticed beforehand. This month we're looking at a car which is a true cult darling – a car that has become definitive of its time and will probably never fall out of fashion with classic enthusiasts.
We are of course talking about the Golf Mk1 GTI, known for its practicality and sporty appearance. Often regarded as the first 'hot hatch' on the market, the Golf Mk1 GTI was voted the 3rd best car of the 1980s in 2004 by Sports Car International – only behind the Ferrari 288 GTO and the Porsche 959.
Our first story features 'Bob', a 1981 Mk1 Golf GTI, who was submitted to the series by Roland Allison.
_________________________________________________________________________
"BOB"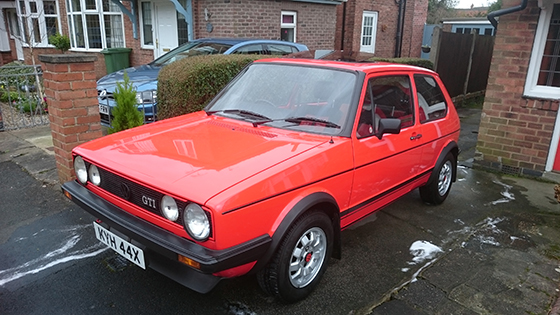 How many people know the history of their pride and joy?
This is my Mark 1 Golf GTI called "BOB" named after my late father.
Dad bought the car from Jack Barclay European, Battersea London. It was one of their demos registered on 1st August 1981. He bought it 3 months old for £5000 and I remember the first day he drove it home. I had no idea that my Dad was buying a Golf GTI; I will always remember that day, watching him reversing it onto our driveway in South East London.
My Dad used to pick me up from school in the Golf and it was great, in those days we would talk about cars at school all day long. "You know that a GTI is faster than XR3i, a 911 Turbo faster than Ferrari Boxer?" 
Now I have picked my kids up from school in Bob, how many people can say that about their classic car?
Later I served my apprenticeship at Jack Barclays and I met the car salesman whose demo car it was.
My parents got divorced and I spent nearly every weekend flying up the A1 to Yorkshire, to stay with my dad's family. Flying, don't I mean driving? No, flying! The Mark 1 Golf GTI in its day was amazing and today it's still fast enough not to embarrass itself. They were sad days because of the divorce, but great times in the days before speed cameras. I am sure it got faster every trip and driving across London early mornings was great, I don't think you can do it as fast these days.
In 1991, my father bought a Mark 2 big bumper 8v Golf GTI, and I bought Bob for £400. The best £400 I have ever spent. I had him resprayed by a local garage in York where I live, but apart from that he is mainly original. The engine has never been out or taken apart but I have spent a small fortune keeping the car standard.
It's the only car I drive that always puts a smile on my face and he now turn heads too.
I have had many good trips in the car... my father moved to Somerset and I drove from York to Watchet in Somerset both ways, which I will always remember. The M5 early in the morning is a great road, Golf GTIs are better for being driven, it's in their DNA. I used Bob when I can to go work, and I like to go to Harewood Hill climb too, see below.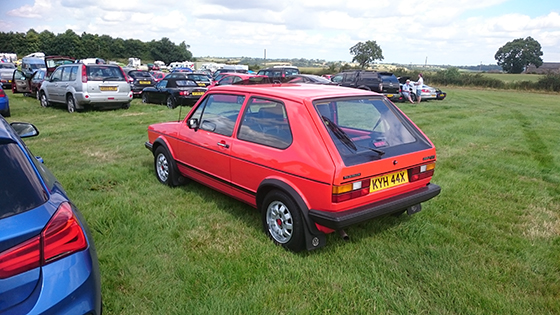 Why do I think it's a classic car? Because people keep wanting to buy him from me.
My plans are to keep him safe and sell him to my son when he's ready, price well of course...£400.