05 December, 2014
Ever wanted to take part in a spectacular motor parade, but felt that your little beauty fell short of the mark? Well now you can.
Next summer sees the silver jubilee edition of the spectacular Silverstone Classic.
And the only qualification you need to join in is that - whether classic or modern - your model has to be silver.
The event - a must for classic car enthusiasts - takes place at the famous Towcester, Northamptonshire venue from July 24-26.
You don't even have to have joined a classic car club in order to enter. Event director Nick Wrigley says he wants next year's Classic to be as inclusive as possible.
2015 highlights
- Motor racing: Races include the FIA Masters Historic Formula 1; Pre 1966 GT motors; the Stirling Moss Trophy (for sports cars built before 1961); FIA Masters Historic Sports Cars and many more. There will also be a pair of new grids.
- Live music: Status Quo are headlining next year's Saturday night bill. The line-up is still to be finalised, but past masters have included Adam Ant, The Hollies, Bonnie Tyler, Dr Feelgood and Suzi Quattro.
- Silverstone Classic auction: This year's event saw over £5 million's worth of classics go under the hammer. These included a £212,750 Healey Silverstone (1950) and a Jaguar XJ220 (1996), which sold for £187,450.
- Aerial displays: The Red Devils, two Mustangs and hot-air balloon exhibitions were among the jaw-dropping airborne events this year.
- Car clubs: Some of the UK's most famous car clubs attend the event. As many as 10,000 motors displayed at this year's event.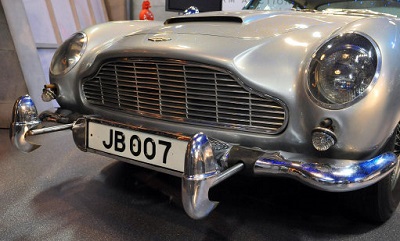 - Other fun events: Such as a shopping village, funfair, live demos, and tempting food and drink.
3 iconic cars eligible for parade:
- The James Bond Aston Martin DB5: this irrepressible silver classic first featured in the third 007 movie, Goldfinger in 1964 and starred again a year later in Thunderball. It has constantly re-appeared, including in Daniel Craig's first Bond film Casino Royale.
- The DeLorean DMC-12 in Back to the Future (1985): "Doc" Brown's beauty in this US sci-fi comedy classic has the added advantage of being a time machine.
- Eleanor from Gone in 60 Seconds (2000): When is a Shelby GT500 not a GT500? When it's a customised 1967 Mustang with a silvery paint job and black-coloured racing stripes specially modified to be the object of car bandit Memphis Raines' desire.
How do I book?
Adult prices range from £34 for a Friday pass to £298.80 for a VIP hospitality pass on Saturday. Opening times: 7.30am-11pm (except Sunday, 6.30pm finish). Book here.