Classic Fiesta Has A Lot On Its Plate
Footman James has certainly piqued the interest of many a classic connoisseur since launching our online customer photo album.
Pat is just one such customer who sent her photographs in, with a rich historical story behind them.
A 32-year-old 1.1L Fiesta passed into Pat's hands in June 1984, following the sad death of her parents within eight months of each other.
Her father, a Dorset County Council bridge engineer, acquired the vehicle from new in 1983 before passing away that October. His widow inherited it, but she too sadly passed away not long afterwards.
Today, Pat is the proud possessor of this delightful classic Ford.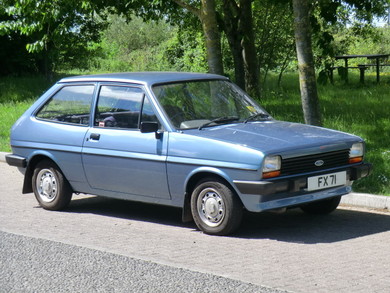 Plate notches up a century
But for Pat, it's the number plate which overshadows the car itself on account of its interesting backstory.
The FX71 plate long pre-dates the Fiesta by over seven decades, making it over 100 years old. Pat's dad bought it in 1960 and it followed him to every car he went on to own.
The plate, which dates back to 1909, is a registration specific to Dorset.
Dorset plates were first issued in 1903 when the registration BF was used. Before the end of the decade, however, owners had the choice of switching to an FX plate, and the BF one eventually became phased out.
Mrs Brockbank says her FX71 plate first appeared on a two-seater 8HP Renault 106 years ago when it was owned by the wonderfully named E Archdall Ffooks, clerk of Dorset County Council.
Fiesta's potted history
1976: Ford unveils its answer to the supermini: the Fiesta MkI. It costs £1,856. Nowadays it would cost you well over five times that amount. It was originally going to be called the "Bobcat"
1995: the Fiesta "Focus" model is launched before the Focus branches off on its own three years later
2008: the current generation, Mark VII, is launched
2009: the Fiesta embarks on an unbroken six-year run as the UK's most popular-selling new car. Not that it was unpopular before. It was also Britain's favourite from 1990-91 and 1996-98
2014: it remains as popular as ever, selling 131,254 on the home market. It also overtakes its former Escort stablemate (4.1 million sales) as becoming Britain's best-selling car ever.
One tabloid journalist estimates that if you lined up every Fiesta ever sold in the GB they would go round mainland Britain's coast twice. Bet you didn't know that!
Keep your pictures coming in
We love to receive your classic vehicle photographs to put in our new online photo gallery.
Like Mrs Brockbank, you too can send your story to us as well as your snaps for our customer album by emailing them to and snaps to news.views@footmanjames.co.uk
What else have our customers posted?
The album currently features a:
regal Jaguar XJ40 (1994)

stunning Triumph TR4 (1964)


bike-tastic Honda CB750KZ (1980)

Daimler Sovereign (1973)