Classic Jaguar Insurance
If you're lucky enough to call a classic Jaguar vehicle your pride and joy then we're sure that you want to make sure it's well looked after. Fortunately, Footman James is here to help.
Jaguar has maintained its place at the forefront of the British motoring industry since the company was first founded back in 1922. Initially, in the business of making motorcycle sidecars, the Jaguar name was added in 1945 when the marque moved on to developing bodies for passenger cars, before finding its forte in the sports car and saloon market.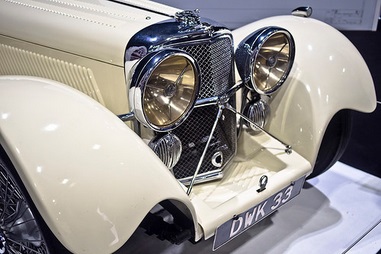 Headquartered in Whitley, Coventry, United Kingdom, Jaguar is single-handedly responsible for producing some of the best sports cars the world has ever seen, including a number of models that have now become firm favourites in the world of classic cars. Previously using the slogan "grace, space and pace", Jaguar produced a number of instantly recognisable sports cars and upscale saloons, from the 1960's E-Type to the 1992 XJ220 - a car which was once recognised as the fastest production car in the world at the time of launch. The XJ generations of luxury saloon were widely regarded as the iconic Jaguar saloon.
Producing some of the best loved sports cars and saloons in the world means that vintage Jaguars make a great project for classic car lovers. The demand for classic Jaguars is high, which means that if you're lucky enough to own one you want to make sure you take good care of it. Footman James is dedicated to making sure that classic cars get the respect that they deserve, with classic car insurance policy options crafted after more than 30 years of understanding what classic car owners want most. From special added extras to customisable features and benefits like agreed value and breakdown cover, with our FJ+ options, you can build your policy that allows you to make the most of your classic motoring.
Footman James has developed strong ties with a number of classic car companies over the years, including a number of classic Jaguar organisations. From the Jaguar Enthusiasts Club to the Jaguar XJS Enthusiasts Club and the Jaguar Drivers Club, Footman James works with a number of different classic car clubs, offering advice and arranging insurance for club members.
Let us help you keep your classic Jaguar protected with our Footman James policies. Get a quote for classic Jaguar car insurance today.