Classic Merc The Star Of Retromobile 2016
A magnificent Mercedes-Benz classic has proven to be one of the stars at this year's Retromobile exhibition (February 8-12).
The iconic car show held in Paris was home to more than 500 marvellous machines.
But topping the list of must-see motors was a draw-dropping Mercedes-Benz 300SL coupe.
Mercedes-Benz 300SL
With its distinctive alloy gullwings, it looks like something out of Back to the Future and is an incredibly rare car, especially in the UK.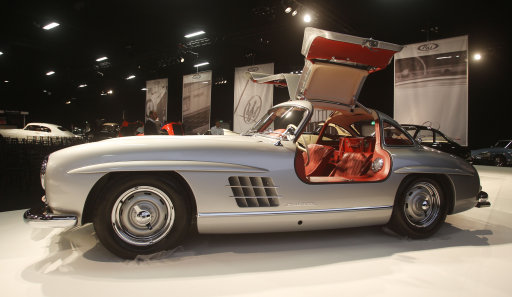 Only two others were ever bought in Britain. It boasts a stand-out red gabardine and elephant ivory tartan inside with corresponding elephant ivory on its exterior.
JD Classics' top picks
The machine helped JD Classics win Classic Driver's Best Classic Car Stand award.
The Essex-based classic vehicle expert also had many other tricks up its sleeve, including a:
Ferrari 250 LWB TdF: Only eight others roam the planet. Italy's 1950s racing legend Casimiro Toselli raced this beauty many times towards the end of that golden decade. It also made a trio of appearances three decades later in the open-road Mille Miglia endurance race
Ferrari F40 LM: Michelotto only made another 18 of these factory-modified racers. This one has had an 850-900bhp engine installed, as well as benefiting from improved brakes and gearbox
Best of the rest
A 1972 Porsche 911 2.5 S-R: German racer Anton Fischaber twice piloted this speed machine to success in the European Hill Climb Championships during the early 1970s. JD Classics has revived it to its 1972 glory, complete with original factory parts
A 1967 Aston Martin DB6 MK1 Vantage Volante: More than 50 staff spent thousands of working hours on this just-so bare-metal restoration
Retromobile highlights
JD Classics' stand was just one of the many attractions at the French extravaganza. Other highlights included:
Mouth-watering machines: Lukas Huni presented its annual historic car collection. Its 1955 Aston Martin DB3 S battled for centre stage with a 1957 Flying Dentist Jaguar XKSS which was thrust into the spotlight by superstar Steve McQueen. Some may prefer a machine of an older vintage - an incredibly rare S-type Mercedes Benz from 1928 with a Porsche chassis and amazing interior made from lizard skin
Awesome Astons: Auto Performance's heritage section showcased the skills that make it Aston's restoration specialists in France. It restores models dating back to the 1950s DB2
Bugatti beauties: This top-end marque has been whetting our appetites before next month's launch of what is being hailed as the ultimate in sports cars: the Bugatti Chiron. It has been showcasing the Chiron's predecessor, its Vision Gran Turismo concept motor and the Veyron 16.4
Freaky French machines: Audiences marvelled at some of the most unusual vehicles they will ever set eyes on. French transport history was documented in the flesh from the pioneering Grand-Bi Renard bicycle to the 1916-1920 Terror-Cuzeau motorbike prototype and beyond
What were your highlights from the show? Send us a message on the @FootmanJames Facebook page or send a tweet to @Footman_James