Rare 1960 classic Minis head to auction
A pair of rare classic Minis are going under the hammer this summer, teasing the classic car collector's market with their surprisingly affordable estimates.
Appearing under two separate auctions is an immaculately restored classic 1963 Morris Mini Minor Super De-Luxe and an unrestored 1967 Mini 850 De-Luxe with only 36,000 miles on the clock.
Stunning 1963 minter
Making its debut in 1959, the original Mini is the revolutionary design of Sir Alec Issigonis. Its front innovative front wheel drive layout and space saving transverse engine was a winner, so much so that more than five million of them were sold and production carried on until 2000.
But nothing beats a model from the swinging sixties, and going under the Charterhouse hammer is a 1963 Morris Mini Minor Super De-Luxe. It's estimated to sell for between with £5,000 and £6,000, which would make the former show winner an absolute steal.
"Mini cars are motoring icons and every time I see an early model it put a smile on my face," says Charterhouse's Matthew Whitney.
He added: "With excellent parts availability, simple mechanics, their diminutive size, bags of character and fun to drive Mini's appeal to classic cars enthusiasts of all ages."
This exquisite example will be up for grabs at the Charterhouse auction on June 16 and 17, which is being held in conjunction with the Footman James Bristol Classic Car Show.
Rare 1967 barn find
Up for grabs in a separate auction is another fantastic example from the 1960s, which has been parked in a garage for 36 years.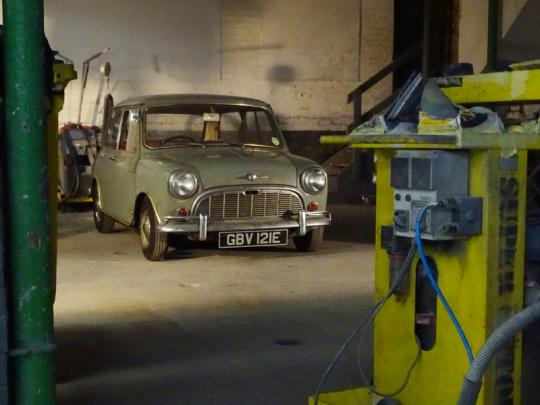 This 1967 Mini 850 De-Luxe has just 36,000 recorded miles, and is totally original. Having had just one owner from new and been stored in a garage since the 1980s, the model is in incredible condition, with just some surface corrosion to speak of.
"My father purchased GBV121E brand new in 1967 for his early retirement," recalls the vendor's son.
"The car was used mainly for holidays; my parents loved touring the Highlands of Scotland as well as North Yorkshire."
After the vendor was taken ill with ME in the early 80s and was told he would never drive again, and so the rarely-used Mini was taken off the road. Its last MOT was in 1983.
The vendor's son added: "It was sheeted and raised off the floor supported with wooden blocks under the sub-frame to keep the weight off the suspension and wheels and never moved again until this year. So the car only ever had one driver."
This classic mini is an iconic symbol of the British motoring industry and was revolutionary in its day.
To be in with the chance of getting your hands on it, head to the auction at The Pavilion Gardens in Buxton, Derbyshire on July 18.