03 March, 2015
It's time for another instalment of our Classic Car of the Month series, and this time we're looking at a timeless classic vehicle that is often billed as the "most famous car in the world", and one of the best looking of its kind.
We are of course talking about the Aston Martin DB5, a car that has maintained popularity among people of all ages since it was created in 1963. It is still an object of desire among many to this day and features widely in popular culture - including some particularly famous films about a fictional British Secret Service Agent.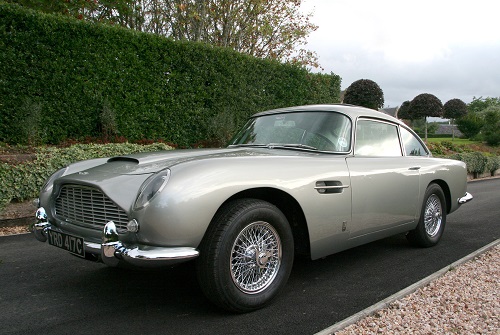 About the design
The DB5 is a luxury grand tourer made by Aston Martin. Designed by famous Italian coachbuilder Carrozzeria Touring Superleggera as an evolution of the DB4, it was produced at the company's historic home in Newport Pagnell and was regarded as the most beautiful Aston Martin ever made.
Although the DB5 appeared similar to its predecessor, the most substantial differences were in fact not visible - they were under the bonnet. The capacity of the engine was enlarged to four litres and the car had three SU carburettors, as fitted to the outgoing DB4 Vantage. Another significant feature for the DB5 was the introduction of a full synchromesh ZF 5 speed gearbox, as well as many other improvements being incorporated including electric windows and twin hydraulic brake servos.
What people thought then and what they think now
The Aston Martin DB5 was a thing of beauty, luxury and aspiration, combining the Britishness of Rolls Royce and Bentley with a sporty Jaguar edge, all within a beautifully timeless chassis. Aston Martin has never been a high-volume manufacturer, with some reports estimating that they have only built 60,000 in 100 years, but the British brand is all about quality over quantity. And boy do Aston Martins ooze quality.
Although it was not the first, the DB5 is famous for being the most recognised James Bond car, appearing in Goldfinger in 1964. James Bond's Silver Birch DB5, created by Oscar-winning special effects expert John Stears, was filled to the brim with gadgets in the film and soon became every schoolboy's dream. The first DB5 prototype used in Goldfinger with the chassis number DP/216/1 was later stripped of its weapons and gadgetry by Aston Martin and resold, before being retrofitted by subsequent owners with non original weaponry. In 1997 the Chassis DP/216/1 DB5 was stolen from its last owner in Florida, and it is still missing to this day.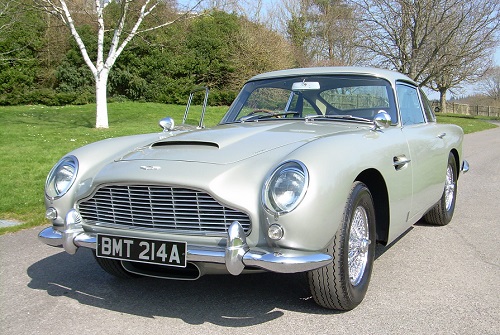 The same car model reappeared again in the world of James Bond, and was used in films Thunderball, GoldenEye, Tomorrow Never Dies and Casino Royale. Another silver-birch DB5 with the original registration was used in Skyfall, the 23rd James Bond film, where "M", who was played by Judi Dench was less than impressed, describing the car as "not very comfortable" during the film.
Since its Bond days the DB5 has featured widely in popular culture; as inspiration for animated characters in children's films, in R&B music videos and a selection of popular computer games.
A 1964 DB5 Sports Saloon was recently unearthed from a Devon garage after its owner stored it for more than 30 years. The original owner, a member of the Aston Martin Owners Club, kept the car in excellent condition with less than 48,000 miles on the clock since he purchased it in 1972. It earned a price of £320,700 when it was sold at auction in 2013.
Do you think the Aston Martin DB5 really is the most beautiful Aston Martin ever made? Tweet us your thoughts using @Footman_James, or leave a comment on our Facebook page, we'd love to hear what you think.