12 November, 2014
Widely regarded as the final event in the UK classic car calendar, the Classic Motor Show at the NEC is a must for all manner of enthusiasts. The show has grown over time, with each passing year adding more and more features to the event. 2014 saw the addition of the Jaguar Heritage display, as well as impressive marque displays from Maserati and Porsche; amongst others, demonstrating just how much the classic car scene means to manufacturers. 
Staff from Footman James Insurance brokers were on hand to offer quotes and advice to visitors, as well as providing a big screen featuring some of the very best classic car and bike movie moments. The Footman James cinema proved a great place to sit and relax, after all with so many halls to get around, a break was well deserved! 

Iconic big screen motors
The Big Screen theme ran throughout the Classic Motor Show, with car clubs going to great lengths to put on Hollywood themed displays. The Panther Car Club hosted a convincing and very cute version of 101 Dalmatians, featuring a Panther Kallista filled with soft toys.
Movie cars were spread throughout the show, including everything from the James Bond Sunbeam Alpine and the Gone in 60 Seconds Shelby Mustang.
Those with a passion for American cars were in luck; as the final of the Footman James Car of the Year in association with Classic American Magazine was held at the show with Thom and Gerry Brouillard scooping the coveted title with their 1940 Packard 1801 Deluxe Club Coupe.
Wheeler Dealers' Mike Brewer and Edd China kept the crowd entertained throughout the weekend, staging a variety of different sessions, which culminated in the presentation of another screen hero – Herbie!
A new dimension
Highlights for Footman James were the fantastic Fiesta XR2 (below), another of the more modern classics, which are bringing a new dimension to classic car shows.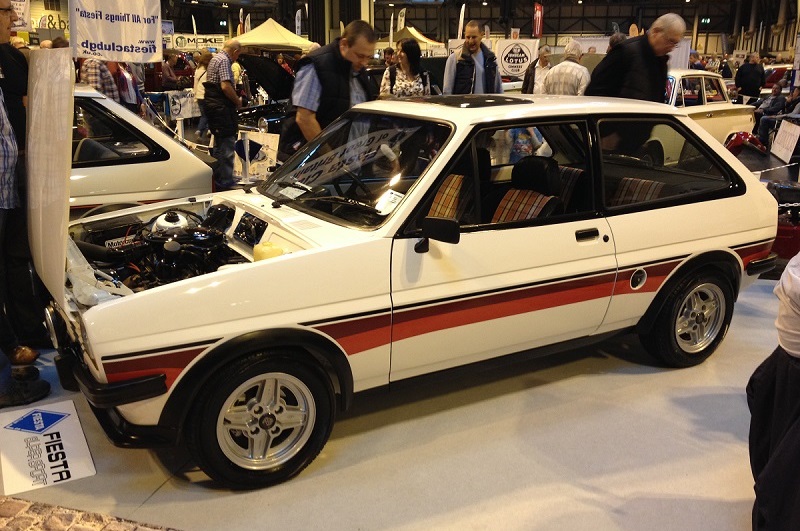 Plenty of modern classics caught our eye, such as the immaculate MK1 Mazda MX5 displayed on the Meguiar's stand and the cars displayed by the Toyota Supra MKIV Club.
Fans of more traditional classic and historic vehicles were well catered for. For the first time a collaboration of Rover clubs created an excellent display of a potted history of British engineering, whilst iconic classic race cars on display included Nick Mason's Maserati 250F and the original Porsche 917 that featured in Steve McQueen's Le Mans movie.
The show saw record numbers of attendees, which kept the seats at the Footman James motor movie cinema occupied for the entire weekend.
The conclusion of the Classic Motor Show signals the end of the 2014 Show Calendar for the Footman James team, although we're busy planning our appearance at The London Classic Car Show in January – See you there.
More photos from the Classic Motor Show can be found in our photo gallery.