06 January, 2015
New Year - a time to make resolutions. But we often forget this is just as much about what we can do as what we can't.
Historic vehicle connoisseurs have a fresh canvas to paint. So here are seven great ideas for those of you considering taking out classic car insurance on a newly-acquired golden oldie…
Buy a classic
Petrol prices are at their lowest for five years. Excellent news for owners of thirsty classics.
Also, classic cars have become a great investment. The Discovery Channel's Wheeler Dealers TV show proved last year that some classics have appreciated by more than 200% over a decade - far outpacing housing and gold markets.
Visit an auction
There's no more exciting way to buy than successfully bidding at an auction.
A 10 million dollar (£6.5 million) price is the official estimate for a special Ferrari 250 supercar that's due to go under the hammer next week. The awesome GT LWB California Spider (1959) is being sold at Gooding's Scottsdale auction in Arizona from January 16-17.
Closer to home (and most people's budget) there's the Race Retro Classic Car Sale from February 21-22. Lots include a pulsating Porsche 911 (1997) valued at £28,000-£32,000.
Take a punt on a barn find
These are proving increasingly profitable on financial and satisfaction grounds. One farm in west France recently yielded an "Aladdin's Cave" boasting an estimated £12 million worth of old motors.
Brush-up on your skills
Why spend a fortune on hiring the professionals to restore your rust bucket when you could do it yourself? Leeds, Bolton and Liverpool all offer such tuition.
Who knows? Before long, you could be welding, joining and replacing panels like an expert.
Join a club
There are thousands of classic fans just as passionate as you, and hundreds of different clubs to choose from.
Whether you drive an Austin Healey, Jag or MG, there are kindred spirits waiting to be met who will be happy to share their knowledge.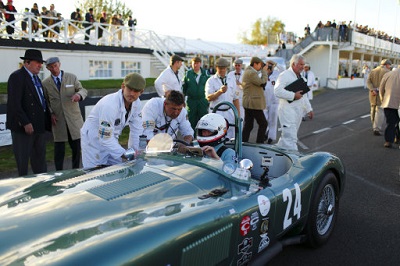 Visit a special event
London Classic Car Show (January 8-11, London ExCeL): Why not make a start this week by visiting the newest, most innovative show on the market? Enticements include a ground-breaking car catwalk (The Grand Avenue) and magnificent Le Mans machines. Read our preview here.
Silverstone Classic (July 24-26, Silverstone Circuit, Towcester): Classic car auctions, car clubs, motor racing, aerial displays, Status Quo, it's all here.
Goodwood Revival (September 11-13, Goodwood Estate, Chichester): West Sussex comes alive for this three-day jamboree. This nostalgia-fest ferries visitors back to the pre-1966 epoch with motor racing as it was intended to be with spectators and contestants dressing-up suitably for the occasion.
NEC Classic Motor Show (November 13-15, Birmingham NEC): The perfect one-stop shop for classic buffs. Exhibitions, auctions, special guests and restoration tips feature strongly in this favourite.
Don't just stand there admiring your little beauty
Venture out and get some miles in those wheels!