Double Norton Special at the International MotorCycle Show 2019
Courtesy of Footman James partners at the Sammy Miller Museum; Sammy Miller has offered two of his most exotic bikes to be on display on the Footman James stand at April's International Classic MotorCycle Show.
Born in Belfast (NI), Sammy Miller (MBE) became an 11 times British Championship winning motorcycle racer, winning over 1400 events. Since then, Sammy's passion did not fade as he set up his own museum, which has now grown in to one of the largest motorbike museums in the world.
The first motorbike on display is the stunning 1955/6 350cc Model F Norton. Influenced by Moto Guzzi's compact machine success that featured laid-down single cylinder engines; the Norton race-shop worked on the similar configured Model F in 1955.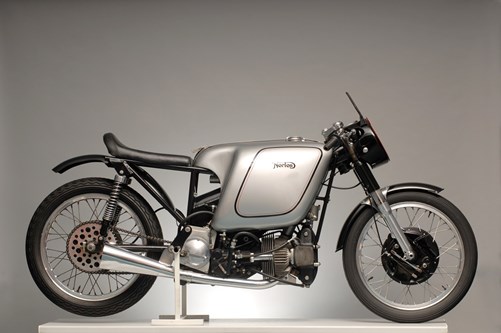 Although the engine was based on the Manx, this was far from being a simple exercise. The engine- which had an external flywheel to reduce oil drag and crankcase size, was unitised with the gearbox to keep its length within bounds, but it still didn't fit the Featherbed frame, so an oil-carrying spine replacement was designed. The engine/gearbox castings were in Elektron magnesium alloy to reduce weight, and there was spur gear primary drive to an innovative five-speed gearbox, which had a novel pinion arrangement to minimise its size. The engine gave as much power as the current upright engine, and – with a lower centre of gravity and smaller frontal area – the Model F's prospects looked extremely promising. Unfortunately, it was decided that the race team ought to campaign standard-looking Manx racers, which meant that one of the most innovative Norton racers ever made was hidden away and never raced.
The second bike on display is Sammy's 1953 350cc Norton 'Silver Fish' Kneeler. The experimental Kneeler was the definitive attempt to improve the obsolescent Max Norton's performance with better streamlining, and its rider laid virtually prone to minimise the frontal area. The top tubes of the Featherbed-based frame splayed out around the engine, fuel was pumped from pannier tanks and the full aluminium streamlining immediately gave the machine its nickname, Silver Fish.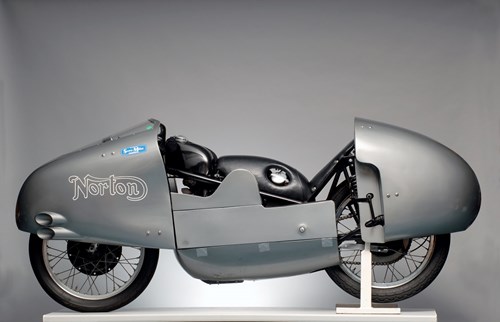 As a schoolboy Sammy Miller heard rumours of this secret semi-works project and saw it make a promising debut in the 1953 North West 200 race, where works rider Ray Amm set a lap record before retiring with fuel pump problems. The Silver Fish was never seriously raced again, mainly because of qualms about the stability of streamlined machines in winds, but Ray Amm and Eric Oliver used it to set numerous speed records at Montlhery. Achieving 60 World Records.
In 1984, Sammy paraded the restored Kneeler in the North West 200, and only his quick reactions prevented disaster when the fuel starvation problem that terminated Ray Amm's ride re-occurred while he was flat out on the straight.
So, if you are attending the International MotoCycle Show this April, why not come over and say hello to our Footman James team! See the bikes for yourself, take as many pictures as you want, or come and talk to us about your classic bike insurance.