Confessions of a Middle-Aged Learner Biker part 2
The last column ended with the confession that, having passed my test and ventured onto the open road, I soon realised that speed was not the goal of biking for me. My wife was far more confident in the saddle than I, and I was as tired of being left behind on long rides as she was having to wait for me to catch up when she reached our destination.
Having realised that I was no speed freak, but a very happy fair-weather biker, the plan had been to trade in our two bikes (hers a Suzuki GSXR1000 and mine a Honda VFR 800) and then spend some time building up his and hers classic brat bikes. We wanted individuality, some style, and enough to power to be safe, but not to terrify, in short, ideal bikes for a middle aged couple in the summer.
What we both shared in our search was the desire for a torquey single cylinder engine, and even perhaps with two bikes of a similar capacity so that we would be evenly matched in performance if not in skill.
Of course, best laid plans and all that, neither of us had foreseen the year that was to come in 2020 and although we had sold the bikes and had money burning a hole in our pockets for new toys, the first lockdown in March meant that we were stymied at just the time at which we had planned to begin the search for our new classics. I had my heart set on something British, possibly a Royal Enfield or even a Triumph, while my wife remained ever faithful to the Japanese brands and was eyeing up various Suzukis.
Throughout that first three months, while we scoured the web, devoured blogs, reviews and ownership guides to what felt like hundreds of bikes, never quite reaching the right conclusion. Too big, too heavy, too unreliable; the list went on and we felt we were getting nowhere until we hit upon the ideal solution, new bikes with retro styling.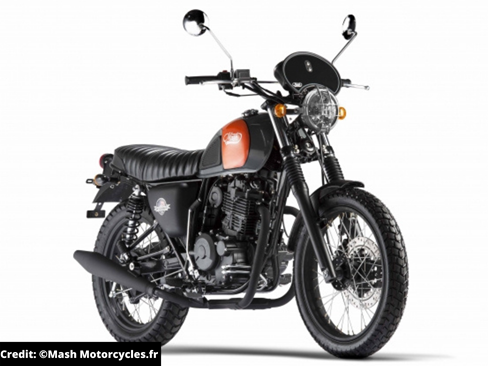 A newish brand from the continent, Mash, produces brand new bikes with the retro styling of classics from the 60s and 70s. Although to the untrained eye these might look exactly like 50 year old bits of machinery, perhaps matching the leather clad man astride them, they run single cylinder, four-stroke engines of up to 400cc. Best of all, the bikes come with modern braking systems with ABS, which gives me confidence that I may be able to ride out in more than just dry weather.
We duly ordered a his and hers pair of Mash 400cc Scramblers, mesh-guarded headlamps, a two-in-one exhaust pipe, coarse studded tyres and short mudguards, they look amazing, and offer me the perfect level of performance. Enough grunt to keep me amused, but not too much that my comparative lack of skill is exposed. Oh, and being modern machines, they have never yet failed to start. Where we got with the rides is a story for another time, but suffice to say, these machines may just be ideal bikes on which this middle-aged biker can earn his wings.
Do you have your own experience of learning to ride a motorbike? We would love to hear your experiences in the comments below.
Read the first instalment of Confessions of a Middle-Aged Learner Biker here.