Double trouble for TV classic owner
Footman James client Nick Askew, is definitely not car shy from owning XR3s, XR3i Orion injection Ghias, a white e-reg RS turbo, to a Porsche Boxster and Cayenne Turbo to an Audi TT convertible to TV classics, DeLorean and a Trotter van. 
Nick's first TV classic, a 1981 DeLorean DMC-12 Auto was imported from Beverly Hills Car Club in California. Having always been interested in the film Back to the Future Nick took to the markets, and with the US prices for the DeLorean outweighing the UK prices he decided to import the classic instead.
"I decided it was time to stop wasting money on cars that only devalue and buy a classic. I had always been interested in the film Back to the Future and thought I would try to buy a Delorean. UK prices were on the up so after a few months of research, I decided to have a go at importing a car from the USA. Having paid BHCC $27,000 then paying the shipping fees plus import duty the car owed me around £24,750 to buy and the same in the UK would have been around £28,000." 
After getting the classic MOT ready, upgrading many of the cars old parts, adding a flux capacitor speedometer and a few other BTTF parts Nick was happily driving around in his DeLorean DMC-12 until his current classic came up for sale. A full on Back to the Future, Mr Fusion replica from part two of the movie. "I did the deal swapped my car and some money on top in May 2021. I had to start again on changing brakes cooling system electrical parts as these are the original 40-year-old parts. A lot of things I can do myself having owned Cortinas, Escorts, Cavaliers and Astra's in the 90's. I have seen my old Delorean though since I sold it, I met up with The Delorean Club UK where I parked behind my old DeLorean which is owned by a club member now!"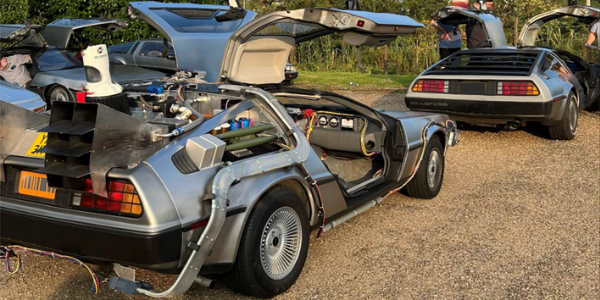 "The Delorean Time machine that I now have was built by Prop Shop Bob in Texas, it was built as a pair for a customer in Manchester who had the Plutonium version BTTF 1 and the Mr Fusion version BTTF 2,3 although it did make a brief entrance at the end of part 1. The car was converted in 2015 from a standard 5 speed Delorean into the time machine it is now. I have started to add more screen-accurate parts to the car in the last 3 months and I will also be changing the Flux capacitor. Original parts to build a time machine are becoming rare now, so more and more cast resin parts are around, there is also a time machine owner in the south of the UK who is making a lot of parts out of milled aluminum which is lighter and if you anodize them, will last longer." 
Nick's love for TV classics didn't stop there with his second classic car purchase this year "About three months ago I decided to bid on a Reliant regal Supervan 3 Trotter van. A late-night eBay bid which I won. I didn't look at where the van was, only to find out it was in Devon! Luckily it came with a trailer so off I went 300 miles to go and pick up a bright yellow trotter van having not seen it. On the way down I remember thinking I must be mad!! So now I am the proud owner of a DeLorean DMC-12 Time machine and a Reliant Regal Supervan 3 Trotter Van." 
"I love owning the film and TV classics, the smiles on people's faces when they see either the time machine or the trotter van driving past, with the odd shouts of Marty or Doc, Delboy or Rodney nearly everyone can relate to the vehicles. I chose the classics I drive as they are fun vehicles. I love the films and tv shows and I thought; Why not you only live once!" 
So is two classics enough for Nick? "If I do buy another classic car, I would love a 1982 Pontiac Firebird  in black with a little red light on the front. I nearly bought a kit car on eBay but it had engine problems and it put me off." 
We asked Nick what his advice would be to anyone interested in owning a classic car. "Join the relevant car club as many questions as you need then do it! Jump in and own one and never look back. You may sometimes think what have I done or this is going to cost when something breaks but the car is always going up in value every year, not like owning a new car." 
We first spotted Nick and his Delorean at our Coffee & Chrome meets, make sure to sign up to hear about future meets before anyone else here.