11 September, 2014
It's not like many of us need much of an excuse to show them off…
But now, even more than ever, classic car owners are being urged to get their pride and joy out of the garage and roll it out at work.
Drive Your Classic To Work Week is an absolute treat for most enthusiasts, and here at Footman James we're revelling in it!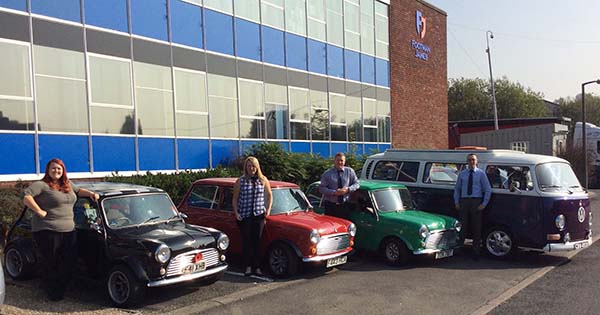 Don't miss out
Classic Car Weekly's annual initiative [September 6-14] for the daily commute is now in its fourth year.

As well as being a lot of fun, it's aimed at showing how classic cars can be maintained by the general public - and not just the rich and famous.
And here at our headquarters in Cradley Heath, a number of our own enthusiasts showed off their classic vehicles.
Paige Flavell-Wood revealed Mini Penny, a 1989 Austin Mini Mayfair.

Meanwhile, a 1971 VW Camper - with the angelic nickname Clarence - was a less-than-mystery machine thanks to its owner, Lee Fowkes.
And the Muppets almost certainly provided the inspiration for the name "Kermit", bestowed upon Antony Hall's 1979 Austin Mini, in Java green.
Beth Ellis also commuted to work in her 1989 Austin Mini Mayfair, called Poppy.
Twittersphere
Drive Your Classic To Work has garnered a lot of attention through the hashtag, #classictowork - with a little help from one of the Britain's best-known DJs and car enthusiasts, Chris Evans. 

Classic commutes have been shared widely online - so if you saw a larger-than-usual complement of Morris Minor or Austin Cambridge on the roads these past few mornings, now you know why!
David Bond, Footman James' Director says: "We thoroughly support such initiatives which bring classic cars out into the public arena.
"Many of our employees are classic enthusiasts themselves so what better way to show them off by supporting such a fantastic initiative!
"We encourage all enthusiasts to ensure they have the relevant cover in place for driving to work; such cover is offered by Footman James as part of our FJ+ suite of products."

So if you see a majestic motor on your daily trawl to the office this week - give them a toot!
And better still don't forget to get involved yourself!