Electric classic cars, are they still classic?
From a certain royal prince leaving his wedding in a zero-emission E Type worth a reported £300,000, through to one-man-band outfits that can offer electric motor and battery packs for the economically-minded owners of Morris Minors. The idea of classic cars that have all of the style of their fossil-fueled brethren, with none of exhaust fumes, is very much a la mode.
It is easy to see why the idea is so popular. A vehicle that is technically up to date, with all the charming style of a classic, which does not require any special skill to operate is a winning formula for many. As an added bonus, in many cases swapping from internal combustion to battery power not only reduces emissions but will also hugely increase the performance of the vehicle, meaning that at last, the show will match the go.
While the shift towards electrification has been welcomed by many, there has been a note of caution raised recently. The Fédération Internationale des Véhicules Anciens (FIVA, or the international body representing the interests of historic motorists) has suggested that vehicles which have undergone significant and irrevocable structural changes in order to receive their electric powertrains, could no longer be considered to be "historic vehicles." In practice, this could mean that owners of historic vehicles undergoing conversion could face having to submit their modified vehicles for voluntary Individual Vehicle Approval testing, before they are allowed back onto the roads.
The FBHVC (Federation of British Historic Vehicle Clubs), who are members of FIVA, have also clarified their stance regarding the conversion of historic vehicles – David Whale, Chairman of the FBHVC stated: "Whilst we must fully accept that owners are free to do what they wish with their historic vehicles, we must make clear our definition of those converted vehicles in terms of their historic status. We, like FIVA, feel that the combustion engine and related engineering, is a key part of the heritage of a vehicle and is crucial to how it looks, sounds, smells and feels in order to represent the era in which it was constructed as a historical piece."
If FIVA's suggestion were to be brought into current legislation, it would raise several big questions for the owners of newly electrified vehicles. Amongst these, would this loss of historic status result in the loss of some of the benefits that come with historic motoring? Would the current road tax exemption for classic cars no longer apply?
Some owners have backed this motion, applauding the preservation of vehicles in their original form. Others have hit back, suggesting that converting classic cars to meet modern emissions targets is a very good way of ensuring that iconic vehicles remain on our roads for as long as possible.
We asked our followers on Facebook, Twitter and Instagram what they thought, and the results largely back FIVA and the FBHVC's stance with 64% of people saying that a vehicle is no longer a classic once it's undergone an electric conversion.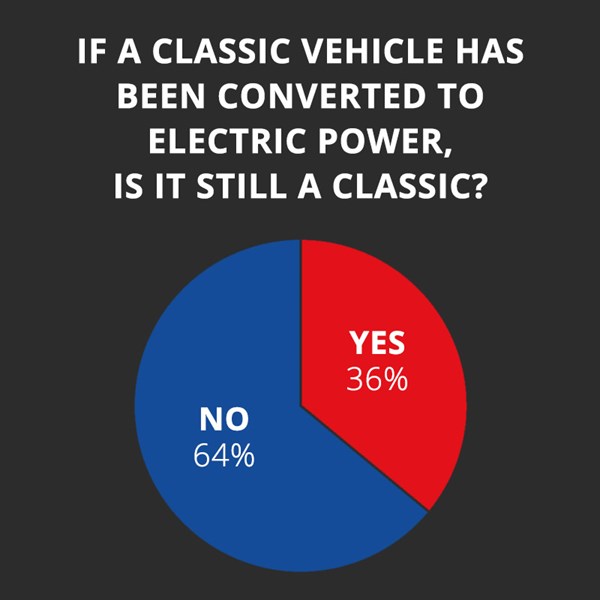 Do you agree with the results? Is a classic car running on battery power the way of the future or, do you feel that a vehicle which has been modified beyond its original specification can no longer truly be a classic? Let us know your thoughts in the comments section below.