16 December, 2014
A Staffordshire classic bike enthusiast is celebrating after one of his machines sold under the hammer for more than eight times his initial outlay.
Mr R. Parker, from Burton-on-Trent, spent £500 on a Suzuki GT750J "Kettle" dating back to 1972.
He was said to be "delighted" and "surprised" when it fetched £4,294 inclusive at October's Duxford auction.
The buyer on a day of intense bidding was a collector who wanted to restore the bike to its former glory.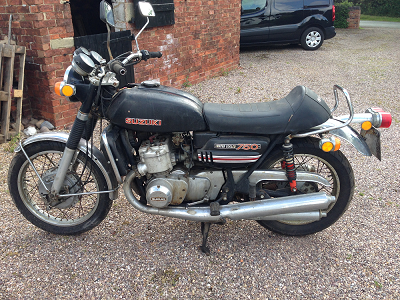 The Suzuki was sold through H&H Classic Car Auctions, which is a valued partner of Footman James.
The Warrington-based auction company's Mark Bryan - a motorcycle specialist - had first seen the bike a few months earlier.
He dragged it out of Mr Parker's garage and it had clearly not seen the light of day for some time, nor had it enjoyed a recent run-out.
Furthermore, it had been re-painted matt black, although the machine was still in one piece.
An estimate of between £500 and £800 was slapped on it and Mr Parker would have been happy to have got his initial outlay back.
Interest proved high, however, both home and abroad, and also over the internet.
Mr Parker was so pleased that he let H&H sell more machines from his collection.
Other great classic sale stories
Mercedes-Benz 600 Pullman Landaulet (1969)
This iconic beauty fetched a cool £308,000 when it went under the hammer in London. The final bid exceeded the RM Auctions' original estimate (£60,000) fivefold in 2009. The reason being? It was one of just 26 that were ever made.
Often bidders can track down totally-restored examples of such rare cars. But rarities that are untouched, such as this one, often provide them with the only chance they'll ever have to do up a model so scarce.
937 Bugatti Type 57S Atalante (1937)
This head-turner went down in barn find legend when it went under the hammer in Paris in 2009. It still had 99% of all its original bits intact and just 26,284 miles clocked up. An unnamed bidder secured it for about 4.4 million dollars - or £2.6 million. Only two years earlier it had been found gathering dust after nearly half a century festering in a Gosforth garage. Its existence came to light following the death of its owner, doctor Harold Carr, who left the contents of his lock-up, including the Bugatti, to his relatives. He had only driven it for a couple of years before retiring it to his garage in 1960.
Why invest in a classic vehicle?
Quite simply, few other investments are safer than classic vehicles. Research from Wheelers Dealers television programme showed that a Porsche 911 Carrera RS 2.7 appreciated 669% from £65,000 to £500,000 from 2004-14.
Aston Martins DB5 and DB6 rose 500% and 478% respectively during this period. Compare this to gold, which rose 181% over the same timescale, silver (139%) and property (15%).
If you have a classic motorcycle, protect your pride and joy with our classic motorcycle insurance policies.