22 December, 2014
Planning a wedding can leave people with an endless list of things to organise, with transport just one of the many things to tick off. Classic cars make ideal wedding vehicles, meaning that weddings are perfect occasion to get out on the road and provide friends or family with a memorable entrance to their big day. Vintage wedding cars are timelessly popular with brides and grooms around the country, so we decided to round up a list of a few of our favourites.
Badsworth Landaulette
This gorgeous 1930s style car is practically perfect for weddings, no matter what the great British weather throws at you. The Landaulette moniker refers to the convertible back third of the car body, allowing for the Badsworth to transform according to your needs. With the hood lowered there is plenty of headroom for even the tallest of grooms, and space to fit the biggest of gowns.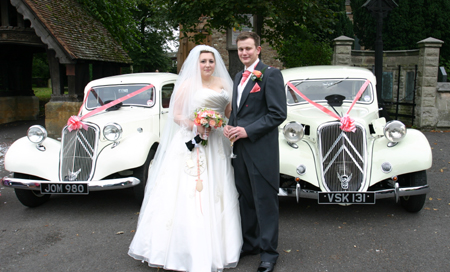 1935 Ivory Austin Limo
A classic black and white Austin Chalfont Limo is the perfect wedding vehicle for those looking to transport more than one or two people. With the option to carry five passengers thanks to two fold-up seats, you can now travel with your bridesmaids or groomsmen, or even special family members. It is easy to see why the Austin Limo is a firm wedding favourite.
Classic Bentley R Type
The beautiful Bentley R Type is a classic wedding favourite, with its lavish exterior providing the perfect way to make a memorable entrance. The timeless appeal of these luxury cars makes them popular year after year, particularly in classic off white and black paint jobs with lashings of walnut wood and leather interiors.
Rolls Royce Silver Cloud 1964
Widely considered one of the finest examples of luxury vintage vehicles, the Rolls Royce Silver Cloud injects some added extravagance into your big day. With its grand, romantic exterior the Silver Cloud is the epitome of wedding day splendour - with plenty of room to fit every opulent gown imaginable. Arriving in this vintage Rolls Royce is sure to be a memorable experience.
VW Campervan
For those looking for a quirky way to arrive in style then a VW Campervan is an unbeatable choice. Styled up with luxury pastel colours, floral arrangements and champagne on ice, choosing a VW Campervan does not mean missing out on a lavish entrance.
Beauford Tourer Convertible
With its four doors and spacious interior, the Beauford Tourer Convertible is a firm favourite for wedding day travels. Its striking long body with optional convertible roof creates space and adds versatility, allowing you to adapt to the weather on your day. The Beauford oozes old school glamour, ideally suited to a variety of wedding themes and colour palettes.
With so many things to plan and organise when it comes to a wedding, choosing the right way to make a big entrance is an essential step for those who are organising their perfect day. Vintage cars are a sure-fire way to arrive in style, so offering the services of your classic car could be the perfect gift. Whether your car is quirky or classic, convertible or a camper, there is a car out there to suit every wedding, and it could be sitting in your garage at this very moment.