First-ever schematics set launches for the Ferrari 250 series
A feat not even Ferrari has accomplished: GTO Engineering launches the first-ever schematics set for the Ferrari 250 series
Stories like these are few and far between; leading classic Ferrari specialist GTO Engineering has just made automotive history with its release of the very first, factory-correct schematics drawing set for the Ferrari 250 series. Furthermore, GTO Engineering has done so in the same year that the Ferrari brand turns 75 years old.
If you're a Ferrari enthusiast you likely know that GTO Parts, the technical and components department of GTO Engineering, already holds schematics drawings for over 50 different Ferrari models, but not the set for the iconic 250 series. Mark Lyon, Founder of the Reading-based firm decided it was time to utilise its impressive Computer-Aided Design (CAD) capabilities and expert in-house team to achieve something Ferrari never did. Now, the entire set of schematics for the Ferrari 250 series is available, which can be utilised on models from 1959 to 1964, from the GTO Parts online shop in digital or printed format.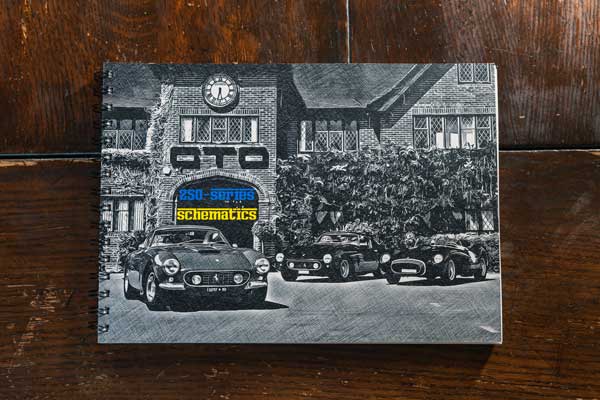 As explained in the firm's official video, each schematics drawing focuses on a different area of the Ferrari 250, so GTO Engineering's clients, customers and Ferrari aficionados alike can marvel at the level of detail and authenticity included. From brakes and suspension through to engine and gearbox components, each schematics drawing correlates to actual parts that the GTO Parts team manufactures in-house or can source from its list of official suppliers.
Mark went on to say that: "seeing the complete schematics for the 250 series of Ferraris finished is an emotional feeling. I remember, before we [GTO Engineering and GTO Parts] embarked upon this project, adapting the schematics for a Ferrari 330 with a pencil and trying to match up the part numbers. It was a real mess, and only made sense to me.
"…I'm proud to present the technical drawings on our website and through a printed catalogue. There's also a key sense of achievement in that every component within the schematics matches a valid part number that we can sell to our customers."
The release of these world-first schematics is exceptionally well-timed, too as this year mark Ferrari's 75th birthday.
At Footman James we are driven by passionate automotive enthusiasts, and specialise in providing insurance policies for almost every driver. If you're a Ferrari aficionado with your own collection, check out our Private Client insurance packages available.